What are the Best Methods of Greenhouse Ventilation?
A greenhouse can be ventilated in many different ways, but some methods are more effective than others. The best methods of greenhouse ventilation allow the air to be gently refreshed without disturbing the tender vegetation inside. One of the simplest ventilation methods is a roof or wall mounted vent that permits natural breezes to flow through the structure. Vents that open and close automatically are also a good method of greenhouse ventilation. Exhaust and interior circulation fans can be an efficient way to ventilate a greenhouse as well.
A single vent mounted in the wall or roof is one of the least expensive and best greenhouse ventilation methods. This kind of vent allows fresh air to flow through the structure from an open door or window. This method of greenhouse ventilation permits air to flow gradually through the room and remove heat and humidity. Larger greenhouses usually require a series of vents strategically placed along the roof or walls. Louvered wall vents can be manually opened to provide additional airflow when there is no breeze blowing.
Automatic vents open and close when the temperature inside the greenhouse reaches a certain level. This method of greenhouse ventilation works without electricity. An attached cylinder opens the vent automatically when a sufficient amount of heat builds up around it. The vent closes again when the air inside the greenhouse has cooled. Electrically operated automatic vents are controlled by a thermostat or humidistat preset to a certain temperature or humidity level.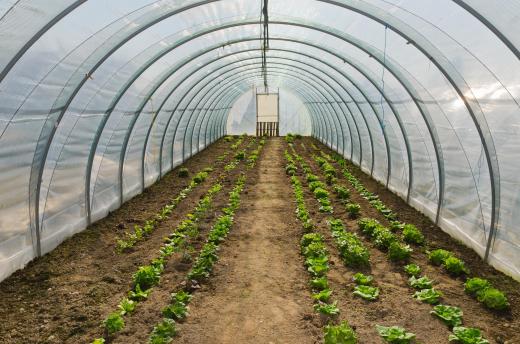 Exhaust fans can also provide greenhouse ventilation by drawing outside air through the structure when a natural breeze is not present. These fans are typically installed opposite from the door to allow air to flow completely through the structure. Since the air from an exhaust fan blows outward, it does not disturb delicate plants. Small greenhouses can usually be ventilated with only a single wall unit. Larger structures may require one or more large exhaust fans mounted at each end with louvered vents in the side walls.
Exhaust fans may be controlled manually or automatically by means of a thermostat or humidistat. Solar-powered exhaust fans may also be purchased to help reduce energy consumption. These units have a higher initial cost but usually pay for themselves over time by lowering electricity expenses. Some greenhouses utilize an interior fan in combination with an exhaust fan to further circulate the air and reduce the temperature and humidity. This greenhouse ventilation method also helps to promote pollination among certain types of plants.
AS FEATURED ON:
AS FEATURED ON:

By: ilyashapovalov

Greenhouse ventilation comes in many forms, but two basic distinctions are manually operating vents or automatic ones.

By: PHOTOERICK

The most cost-effective greenhouse ventilation is often a single vent with an exhaust fan.