What are the Different Types of Dressers?
Next to the bed, dressers are perhaps the most important piece of furniture found in bedrooms today. This furniture is useful not only because it stores clothing and other items in their drawers, but also because of the hard surface it provides for displaying collectibles or other items. They often hold or have room for a mirror to hang on the wall above, and equally as important, they simply look attractive.
There are many different types of dressers available for the plethora of decorating styles and personal preferences around, but there are a few basic models. The largest sit wide and have upwards of nine drawers: three small ones along the top and three wide drawers set in columns on either side. Dressers this large often have a built-in mirror and take up a lot of space, but they also hold an abundance of items and are useful for siblings or a husband and wife to share. A slightly smaller model might have only seven drawers: three along the top and two wide ones in columns on either side.
If siblings or a happy couple find they still need extra drawer space, there are smaller dressers that compliment the large ones. They might be tall and slim with just one column of six to eight drawers, or they may be short and squat with three to four wide drawers. These normally do not include a built-in mirror. Sometimes, they are used as the primary storage for children's rooms or guest rooms.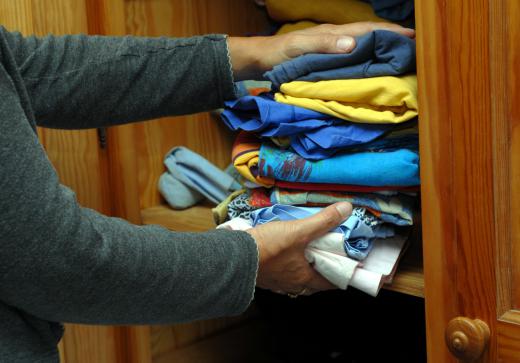 Tall, slim dressers can be used in a variety of ways, not just for storing regular clothing. Some women find that they make the perfect lingerie chest. They are also useful for storing jewelry, craft projects, and other small items. Small, shorter dressers can be used in a baby's room and double as a changing table; simply put a plastic-covered pad on the top and keep the diapers, wipes and other necessities in the top drawer.
Other types of dressers include the wardrobe and the hutch. A wardrobe is more like a movable closet, but many have drawers inside. A hutch is usually tall, with several drawers at the bottom and an opening with shelves on the top half, often covered by a pair of doors. Hutches and wardrobes offer many different options for storing clothing and other items, as well as a look unique from traditional dressers.
The beauty of dressers is that they never go out of style and are always needed. Even if one is older and unattractive, it can be painted to look brand new and suit your decorating style.
AS FEATURED ON:
AS FEATURED ON:

By: Kybele

Flat-pack dressers are affordable choices.

By: Richard Villalon

A typical bedroom dresser included storage space for smaller pieces of clothing and for personal effects.

Clothes and other possessions can be kept in a storage dresser.