What are the Different Fire Pit Designs?
Fire pits are permanent or portable containers for backyard bonfires and barbecues, and they have become popular for entertaining and outdoor living. The different fire pit designs incorporate a variety of fuel sources and are available in many shapes and sizes. Some fire pits burn wood or natural gas and might be portable. The different fire pit designs include chimeneas, in-ground fire pits, portable fire pits and gas-fueled fire pits.
Chimeneas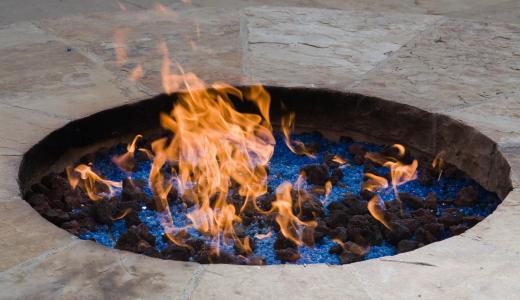 One of the most attractive and popular fire pit designs is the chimenea. This squat, mostly enclosed tub sits above the ground on three stout feet and has a chimney or a vertical pipe for a vent. Traditionally made out of ceramic or clay, this outdoor stove was meant to cook food and provide heat by burning wood logs.
The chimenea's recognizable shape, with its rounded body and flaring stovepipe, appeals to many homeowners. The fire is made in the body and fed through an opening in the front. It is a very simple design and is available from a small, table-top size to a larger patio version. The smallest versions might be portable, and even the largest sizes can be moved with some effort. Modern chimeneas might be made of cast iron or other metals, as well as the traditional ceramic or clay.
In-Ground Fire Pits
Another choice in fire pit designs is an in-ground, permanent fire pit. These pits start as holes that are dug into the ground and then lined with small walls of stone or brick that extend above the ground. The bricks or rocks insulate the fire from the soil and block the wind. This simple design allows the user to build a basic campfire in the backyard and provides a place to set a grill or a few skewers. This type of fire pit can be a focal point of a patio, with seating built in a circle surrounding the pit.
Other Portable Varieties
There are some fire pit designs that are simple and portable, allowing them to be used in the backyard, at the beach, in the woods or anywhere else where an enclosed fire is permitted. A copper bowl fire pit, for instance, is a glittering container that sits on metal supports and provides a dish in which to build an open bonfire. Similar fire pits can be round, square or rectangular and generally have integrated spark screens to cover the flames, letting in fresh air while keeping flames and sparks from escaping. Some enclosed fire pits have rotisserie bars for roasting poultry, flat grills for cooking food and ash pans to easily remove debris. With most fire pits, either wood or charcoal can be used, depending on availability and the user's needs and preferences.
Gas Fire Pits
Some fire pit designs use natural gas as fuel instead of using wood. This is the case with many permanent, built-in fire pits. A natural gas fire pit needs to be connected to the natural gas lines in a home or other building. Designs that use propane are attached to semi-portable tanks.
Just like an indoor gas fireplace, a gas fire pit typically creates flames above concrete or ceramic logs. The unit might be shaped like a bowl or box, but it doesn't need a spark screen. This can be a smart design for use in places where the burning of wood has been outlawed as a fire hazard.
AS FEATURED ON:
AS FEATURED ON:

By: Harris Shiffman

An in-ground fire pit.

A propane tank for a fire pit.

By: GummyBear

Fire pits may contain real or ceramic logs.

By: Rony Zmiri

With most fire pits, either wood or charcoal can be used, depending on availability and the user's needs and preferences.