What are Some Different Types of Outdoor Fireplaces?
Outdoor fireplaces have become a popular landscaping element in some regions of the world. They provide ambiance, warmth, a focal element in a design scheme, and sometimes a place to cook, as well. There are numerous styles of outdoor fireplace, ranging from very traditionally-styled fireplaces with full chimneys to modernist fire pits. Many home suppliers and hardware stores carry outdoor fireplaces, and it is also possible to build one from the ground up.
One of the key distinctions between different kinds of outdoor fireplaces is the source of the fire. Wood fireplaces are popular because of the look and feel of a wood fire, but it is also possible to find pellet fireplaces and gas fireplaces. Gas fireplaces tend to be more environmentally friendly, in addition to being cheaper and easier to run and maintain, which is an important consideration.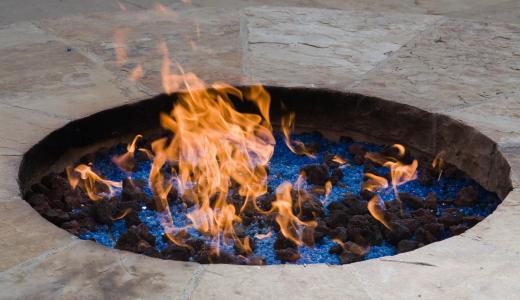 Some outdoor fireplaces take the form of a fully enclosed unit with a chimney. The fireplace can be made from brick, stone, stucco, concrete, and a variety of other materials, and it may stand alone or be built into a landscaping feature such as a wall or rockery. These fireplaces tend to be safer, because they are enclosed, and better for the environment, because the chimney can include a spark arrestor and filter to trap particulates.
Fire pits are open on all sides, and they may be built in, or movable. A classic fire pit is simply dug directly into the ground and bordered with stone, tile, or other fire-resistant materials, although raised fire pits are also an option. Raised versions made from metal or stone which stand on supportive legs are available, along with outdoor fireplaces which are theoretically portable. It is advisable to use a screen over a fire pit to prevent the spread of sparks.
Some outdoor fireplaces are designed for cooking, in which case they may have shelves or movable grills which can be utilized to cook various items. Outdoor fireplaces for spit roasting are also an option. These fireplaces often have design features which allow people to control the flames, or to promote the production of coals which can be used for grilling. For convenience, cooking fireplaces are often located near a patio or social area so that food does not have to travel far, and it helps to have a source of water nearby for cleaning.
For people who want to build an outdoor fireplace, it can help to consult a contractor to ensure that the fireplace is safe. Outdoor fireplaces should always be surrounded by a healthy margin of non-flammable materials, like stones, bricks, tiles, or packed clay. They also need to be stable and sturdy so that they will not collapse during use, and since a fireplace is usually a permanent fixture, it is a good idea to think ahead about how the space will be used to ensure that the fireplace does not end up in the way. Manufactured outdoor fireplaces are also an option, although these still need to be installed with care.
AS FEATURED ON:
AS FEATURED ON:

By: Harris Shiffman

A fire pit.

By: GummyBear

Wood fireplaces will require firewood.

By: Rony Zmiri

Raised fire pits made from metal are one kind of outdoor fireplace.