What are the Best Tips for Upholstery Repair?
There are several different tips than can help produce a professional-looking upholstery repair job. Leather furniture can be repaired with a do-it-yourself kit containing all the necessary materials. Small tears in cloth upholstery can sometimes be repaired with a sewing needle and an appropriate colored thread. Use a piece of excess material taken from the underside of the furniture or beneath the cushion to patch cloth upholstery. Dining room chair cushions can usually be easily recovered by removing them from the chair frame.
Leather upholstery is usually quite expensive and every effort should be made to repair damaged areas before discarding the furniture. The best approach to leather upholstery repair is to purchase a do-it-yourself kit. This kit typically contains a sub-patch, adhesive filler, and liquid coloring compound. For best results, trim the torn area with scissors and place the sub-patch beneath the tear. Seal the area with filler, mix the coloring compound to match the leather, and apply it to the leather.
Cloth upholstery repair should always be made as quickly as possible to avoid further damage. Small tears can usually be mended by sewing the area with a needle and matching thread. Cushion covers should be partially removed to create slack in the material before sewing. Slack may also be created by squeezing the fabric together with spring-loaded clamps. Use short, close stitches and carefully trim any excess thread with scissors.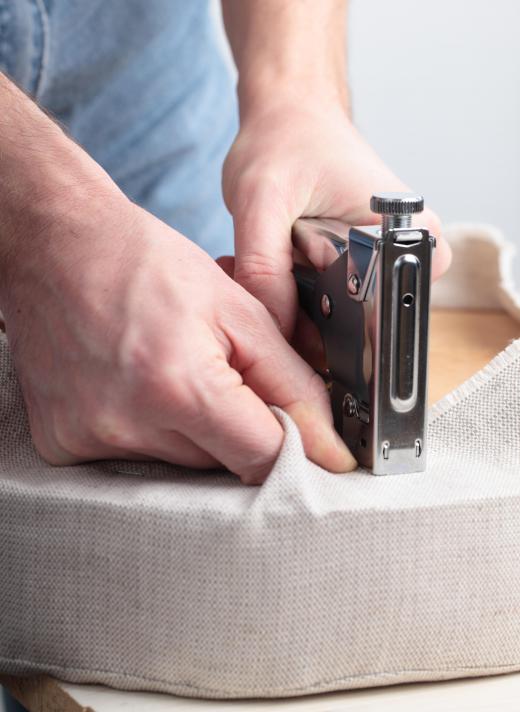 Larger tears can sometimes be mended with a do-it-yourself cloth upholstery repair kit. This kit usually comes with several pieces of neutral-colored fabric and a clear adhesive. If a suitable fabric cannot be found in the kit, a small piece of excess material can often be taken from beneath the furniture or cushion. For best results, trim the material into an oval shape to make it less noticeable. Apply the patch material to the tear using the clear adhesive.
Dining room chair upholstery can often be repaired by removing the cushion from the frame and recovering it. These cushions are typically attached to the chair frame with wood screws and can be easily removed. The fabric upholstery covering the cushions is usually fastened to the base with staples or furniture tacks. Remove the fasteners and discard the fabric while retaining the cushioning material. Measure and cut the new upholstery material, install it to the cushion base with heavy duty staples, and reattach the unit to the frame.
AS FEATURED ON:
AS FEATURED ON:

By: valya82

An upholstered footstool.

By: Lilyana Vynogradova

Heavy-duty staples are used to install upholstery material to a base.

By: kon

A do-it-yourself approach might be best for leather furniture repair.

By: theilr

Patches may be used to repair upholstery.