Sisal rugs are woven from natural plant fibers. Like a jute, coir, or hemp rug, it has properties of durability and resilience that many artificial materials can't provide. Rugs made from it are strong and beautiful, and can be a lasting addition to a living room, bedroom, office, or hallway, because of its unique advantages.
Sisal fibers originate in a cactus plant called Agave sisalana that grows in Africa and Brazil. Since it is a cactus, it prefers arid desert climates where other kinds of fibrous plants would be scarce. Agave sisalana has long been farmed for its internal, tensile fibers that people make into rope and twine. The fibrous stalks are cut, dried, and treated to produce tan-colored lengths. A popular destination for this twine is to be woven into sisal rugs for the floor.
There are many benefits to selecting a sisal area rug over carpets made from synthetic material. Sisal is naturally stain resistant, so you don't need to use any chemical treatments around your pets or children. It also doesn't build up static electricity, as we all know carpet does on dry, windy days. Sisal rugs are also very durable and won't compress or show as many wear patterns as wall-to-wall carpeting.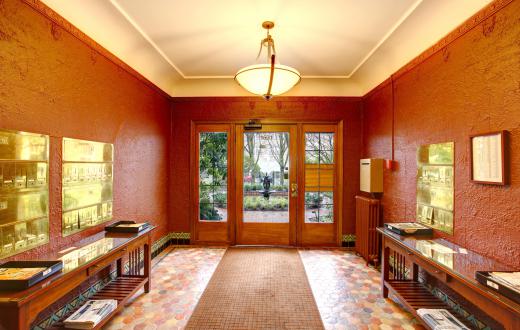 Even when compared with other natural fiber rugs, sisal rugs are a smart choice. They are extremely strong and versatile, ideal for high traffic areas like hallways. They also have the unique ability to be tightly woven with other textiles, such as wool or seagrass, to give the combined benefits of both fibers. Many prefer a rug of 60% wool and 40% sisal because it is warm, soft, and durable.
Keep in mind that sisal rugs are not designed to be used in high humidity or wet areas, such as bathrooms or kitchens. Since sisal is an organic material, it can develop water stains. However, in the rest of your home it actually helps to regulate mild changes in humidity by absorbing excess moisture in the air and releasing it during drier days.
Another advantage of choosing rugs made of sisal is that the edges can be trimmed in any fabric you desire. A thick, canvas border in a basic color like black, blue, or natural unbleached fabric often comes with manufactured rugs. Yet you can easily find a distributor that will sew the material from your armchair, curtains, tablecloth, or other complementary fabric. This ability to customize sisal rugs appeals greatly to many homeowners.
AS FEATURED ON:
AS FEATURED ON:

By: sasel77

A sisal rug is a rug made from natural, durable fibers.

By: Iriana Shiyan

Sisal rugs are ideal for high traffic areas like hallways.