What are Different Types of Lampshades?
If your current lampshade is not exactly your taste, or perhaps a bit outdated, there are many styles and types of shades you can choose from to replace it. There are the bell lampshade, the coolie, the drum, the empire, the square, the rectangle, and the hexagon. Besides different shapes, shades are also available in many different materials, so you are sure to find the perfect shade to complement your décor.
The bell lampshade is, as it sounds, shaped liked a bell. This flared design begins with a narrow top and fans out down toward the base. It is a popular style, and one that is attractive whether chosen in a very simple design, or when piping or trim is added, or when it is enhanced with a scalloped edge.
The coolie shade is similar to the bell, but it is shorter and squatter. There is a more pronounced difference between the top and the bottom than there is with the bell shade. The empire shade is somewhere between the bell and the drum shade, the drum being a cylindrical shape that generally resembles the percussion instrument it is named for. A drum lampshade can also be narrow and elongated.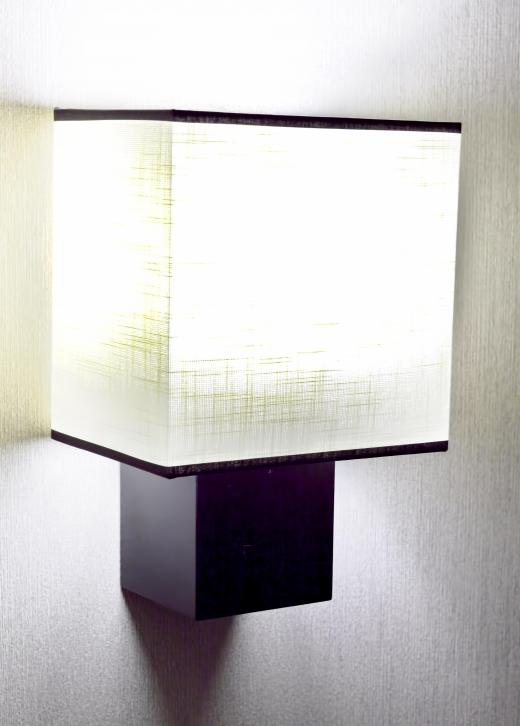 Square, rectangle, or hexagon shades are formed like the geometric shapes they are named for and typically have distinct panels that make up the four or six sides. These panels are sometimes embellished with piping, and each shade is available in a variety of fabrics and finishes.
Choose a lampshade in your favorite material, be it linen, leather, parchment, string, silk, suede, or toile. Select from simple or paneled styles, plain, styles with beaded trim or other embellishments, or a classic pleated shade. Whether you're looking for a lampshade for a floor lamp, table lamp, or chandelier, you'll find plenty of shapes, styles, and textures to choose from. Check out your favorite lighting store or home improvement center, or shop online from the comfort of your home.


By: Nadezhda Bolotina

A bell lampshade.

By: iskandarov

A coolie lampshade.

By: Vitas

A square lampshade.

By: Greentree

A decorative, embellished lampshade.

By: PRILL Mediendesign

Lampshades can be made from suede.

By: venusangel

Lampshades for floor lamps come in many different shapes, styles and textures.