How is a Thickness Planer Used in Woodworking?
Since wood often bends and warps, especially right after it is cut out of a log, woodworkers have developed techniques to create relatively flat boards. To begin a woodworking project, a woodworker usually starts with rough lumber and must go through various steps to ensure that it is flat. This process is usually called surfacing. Some woodworkers prefer to use handtools only, but for those that use power tools, a jointer is typically used.
A few passes on a jointer is usually sufficient to provide one flat surface. If you were to turn the board over, however, and make some additional passes, you may get a flat side, but it would not necessarily be parallel to the first side. Another tool is required to create a flat side that is parallel to the first side - a thickness planer. A thickness planer has a flat base and a cutting head on the top. Power rollers feed the wood through the cutting blades and remove a small amount of material - usually 1/64" to 1/32" (.5 to 1mm). If more material needs to be removed, the wood is fed through the thickness planer for additional passes.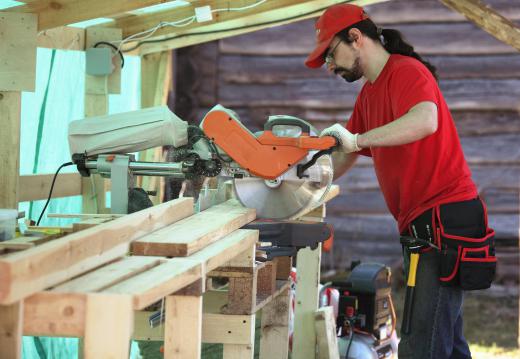 After using the planer, you have two flat and parallel faces. To complete the surfacing process, the woodworker usually takes the partially surfaced board back to the jointer to square up one edge. The remaining edge is usually squared up on a table saw. The ends of the board are usually squared either with a chopsaw or on a crosscut sled on the table saw.
As the name suggests, a thickness planer can also be used to control the thickness of wood. Small amounts of wood are removed in successive passes until the desired thickness is achieved. A set of boards can be sent through on a final pass to ensure that all of them are of equal thickness.
AS FEATURED ON:
AS FEATURED ON:

By: stokkete

A planer is sometimes used on wood.

By: ksi

After using a planer, the last edge is usually squared up on a table saw.

By: Arpad Nagy-Bagoly

Hand planers, or jack planes as they're sometimes called, allow wood workers to manually shave down and smooth the surface of wood.