Wood has many desirable features that make it the material of choice for many projects, especially furniture-making. Despite the beauty, durability and workability of wood, it does have some disadvantages. One of the most difficult characteristics to manage is called wood movement. This is when the wood expands and contracts, potentially causing gaps or bowing in the finished product.
When wood is examined under a microscope, the structure resembles a multitude of tiny parallel tubes. These passageways were used to transmit nutrients when the wood was a part of a tree. Once wood is cut out of a log, these tubes tend to expand and contract in conjunction with temperature and humidity changes.
Wood tends to experience the majority of its expansion and contraction in one particular direction. Movement parallel with the grain is negligible, whereas expansion and contraction across the grain is significant.
The rate of expansion and contraction of wood varies from species to species and even from board to board. The amount of movement also seems to decline with age, so an older board may move less than a recently cut one. A general rule of thumb that most woodworkers use is that boards can move up to 1/16 inch per foot (1 mm per 20 cm) perpendicular to the grain, and sometimes more.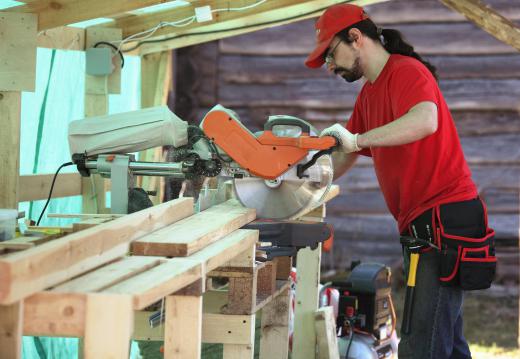 In small projects, the amount of wood movement is often insignificant and can safely be ignored. When larger surfaces are mated, however, these variations must be taken into consideration. When mounting a large table top to a base, for example, the potential for expansion and contraction can approach 1/2 inch (13 mm). If the woodworker fixedly mounted the top, the wood would crack or bow and the table would be weakened or ruined.
Woodworkers have developed all sorts of techniques to mitigate the problems associated with wood movement. They may use slip joints, oblong holes or special fasteners (such as figure-8 fasteners) to join large boards or panels.
The way in which a particular board was originally cut, also plays a role in the expansion and contraction that it will experience. Quartersawn boards, for example, undergo much less movement than their plainsawn counterparts. Alternatively, manufactured panels, such as plywood, particle board, or MDF, include so much glue that expansion and contraction is virtually nonexistent.
AS FEATURED ON:
AS FEATURED ON:

By: Tyler Olson

Temperature and humidity may affect the degree of wood movement.

By: ksi

Older boards may move less than recently cut boards.

By: artzenter

Plywood experiences very little wood movement.

MDF typically doesn\'t exhibit much expansion or contraction.

By: vivat phuakladprao

Melamine covered particle board, which has very little wood movement.

By: D Grosz

How a wood was cut, such as quartersawn or plainsawn, affects wood movement.