How do I Repair Cracks in a Driveway?
Cracks in a driveway are quite common, especially in areas with harsh winters. Concrete and asphalt driveways are the most common types of driveways that need repaired, and how the crack should be repaired depends largely on the type of material used. Before repairing any crack or hole in a driveway, regardless of the material, the driveway should be prepared and thoroughly cleaned. Asphalt driveways can be repaired using asphalt crack filler or asphalt cold patches. Cracks in concrete driveways can be repaired using textured caulk or concrete patching compound.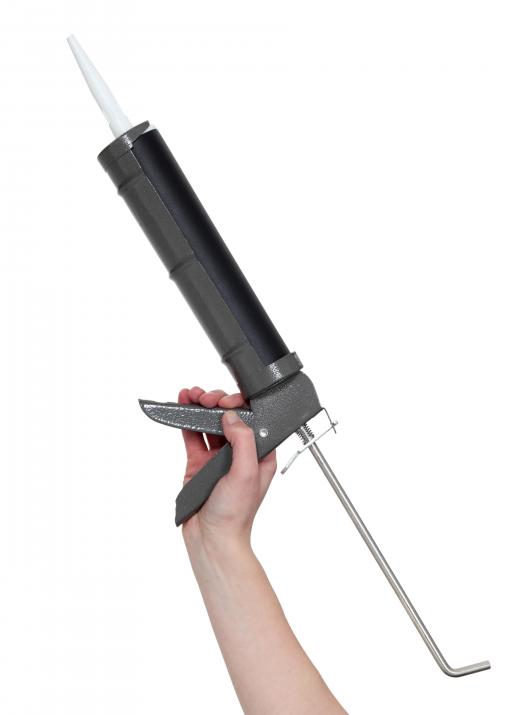 Preparation is the first step in repairing cracks in a driveway. Loose pieces of the driveway around the area should be removed using a chisel and hammer for the more stubborn pieces. A wire brush can be used to smooth out rough edges. Cracks that are roughly 0.5 inch (1.3 cm) across should be made wider, also using a chisel and hammer. The recommended width for these widened cracks is 1 inch (2.5 cm).
Most experts recommend that larger cracks in a driveway should be undercut. This means that the bottom part of the crack should be chiseled and scraped out to make it wider than the edges of the surface. Doing this will ensure that the patch will stay put after it has dried.
Cleaning is the next step, and driveways should be swept to remove loose dust, dirt, and other debris. Cracks can be cleared of any remaining dust by using a hose or air compressor. It can also be removed by vacuuming it up with a high powered shop vacuum.
Small cracks in a concrete driveway are typically repaired using textured caulk. This often works the best when applied to a completely dry surface. If the crack is more than 3/8 of an inch (1 cm) deep, most experts recommend filling it with sand until the top of the sand reaches this depth. Using a caulking gun, the caulk can be used to slightly fill the crack, which can then be smoothed out to be made even with the surface.
Repairing larger cracks in a driveway made from concrete is typically done using a concrete patching compound. The surface of the driveway and area around the crack should be moistened prior to applying the compound. The compound can then be pushed and worked into the crack with a trowel or small shovel. Most experts agree that larger cracks should be filled in layers roughly 0.25 inch (2 cm) thick, with each layer drying before the next is applied. When applying the last layer, the crack can be over filled and smoothed out, making it level with the rest of the driveway surface.
Smaller cracks in a driveway made from asphalt, up to 0.5 inch wide (1.3 cm), can be repaired using asphalt crack filler. This is typically sold as a thick liquid, either in a can, bucket, bottle, or caulking gun. It can also be used to fill the crack to above the surface of the pavement and smoothed with a trowel.
Cracks in asphalt that are larger than 0.5 inch (1.3 cm) are usually repaired using something called an asphalt cold patch. It is believed that the best way to accomplish this is by adding the patching compound a little at a time and tamping each layer down with a tamping bar or timber. When the last layer is finally applied, it should be a little higher than the surface of the rest of the driveway. A large, flat piece of wood can then be laid down on top of it, and a vehicle can be driven over it. This acts as a type of roller in a pinch, and can be used to flatten and level the patch.


By: Taweesak Ngamamornpi

Cracks in a concrete driveway.

By: auremar

Asphalt crack filler might come in as caulk for a caulking gun.

By: Mark Ross

Asphalt crack filler or asphalt cold patches can be used to repair a cracked asphalt driveway.

By: dule964

Sand can be used to repair cracks in a driveway.

By: ganko

A caulking gun can be used to fill in some of the smaller cracks in a driveway.

By: Kadmy

If pouring a large slabs, such as garage floors or house foundations, a power trowel may be required to finish it.