How do I Choose the Best Flooring Installers?
Getting new floors can be quite exciting, but choosing the wrong company for flooring installation may introduce some hiccups. It's important to choose flooring installers who can handle the type of flooring being installed, and who have a generally good reputation in the community and a business ethic which includes a guarantee for their work. It pays to think ahead and research, as forethought can help people avoid costly mistakes.
One of the most important considerations when evaluating flooring installers is what type of floor is being installed. Hardwood and tile, for example, are two radically different surfaces which are not handled by all companies which install flooring. Once someone has an idea of the kind of flooring they want to install, they should start asking around to find the best company to do the job.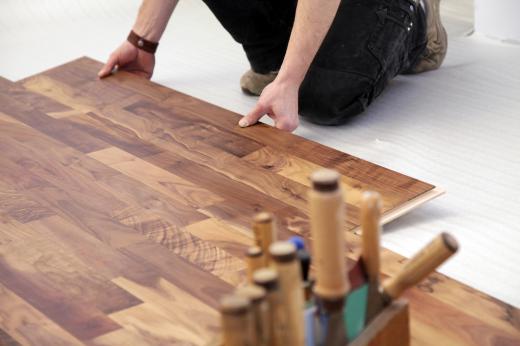 Reputation is important. Good resources for information about flooring installers include stores which sell flooring, local contracting and construction firms, and people who have recently had new floors installed. Sometimes the Internet also has reviews which may cover a particular community. When discussing installation with a potential flooring installer, it's important to ask for a complete estimate of all costs and the anticipated length of the job; most flooring installers should have pretty similar estimates, and radical deviation is a red flag.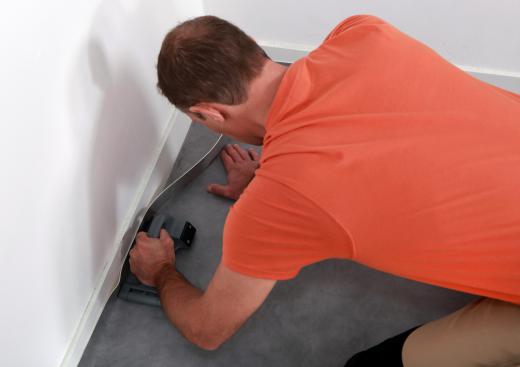 Other considerations include who is responsible for moving and protecting furniture, whether or not removal of the old flooring is included in the services offered by the flooring installer, and whether or not the flooring installers are bonded or insured. Being bonded or insured means that if there is a problem, there will be financial compensation which can include a payout to a new flooring installation company to redo or finish a botched installation or replacement of furnishings damaged by the installers.
Reputable flooring installers should offer a product guarantee, indicating that defaults in the work or dissatisfaction with the installation will be addressed by the company. It is also important to find out if a company uses subcontractors for flooring installation, and if these subcontractors are covered by the same bonding, insurance, and guarantees that the parent company has. Hardwood, carpet, vinyl, and tile flooring all come with unique needs to be addressed, and an inexperienced subcontractor can badly botch a job.
Once a flooring installer is selected, it is important to write out a clear contract which indicates the estimated price, length of time involved in the job, and specific details about the type of flooring being installed and how it will be installed. Rather than just saying "hardwood flooring," for example, the contract should specify the precise type of flooring being ordered, and if the installation includes removal of old flooring, installation of a new subfloor, or installation of padding for insulation and sound muffling. Detailed contracts make the expectations of all parties clear, and can be utilized in court in the event that there is a dispute.
AS FEATURED ON:
AS FEATURED ON:

By: akf

Floor installation should be done by professionals.

By: auremar

Choosing a good carpet installer can save people a lot of pain and distress.

By: sever180

When choosing a flooring installer, check for someone with a good reputation and who offers a guarantee on work.