How can I Repair Cracks in Concrete?
Repairing cracks in concrete is not as difficult as it might seem to someone who has never done it before. It basically involves cleaning out the cracks, then using either a concrete patching compound or concrete caulk to fill the space. For larger cracks, a little sand can be added before the patching compound is used. After the cracks have been filled, they should be allowed to dry completely. For concrete that is heavily damaged, or if the cracks appear in the foundation of your home or another building, it probably is best to use a professional concrete repair service.
Repair Quickly
Home ownership comes with both benefits and responsibilities, and one of those responsibilities is to maintain the concrete or cement-paved areas around your home. It is best to perform the repairs as soon as you see any cracks in concrete on your property, for a variety of reasons. Cracks are easier to repair while they are still small. Safety is another reason to get started right away; homeowners are responsible for any injuries that occur on their property, and large cracks could cause someone to trip and fall. Cracked concrete can also be unattractive, and you likely will want to protect the looks and value of your home.
Causes of Cracks
Cracks in concrete can appear in driveways, patios, sidewalks and even around the foundation of your home. There are many things that can cause damage in these areas, including root growth and weather conditions. Perhaps the most common cause of cracked concrete is standing water; when water does not drain properly, it can work its way down between weakened sections and create a crack. Unless you solve the drainage problem, the cracking is likely to reoccur.
Repairing Small Cracks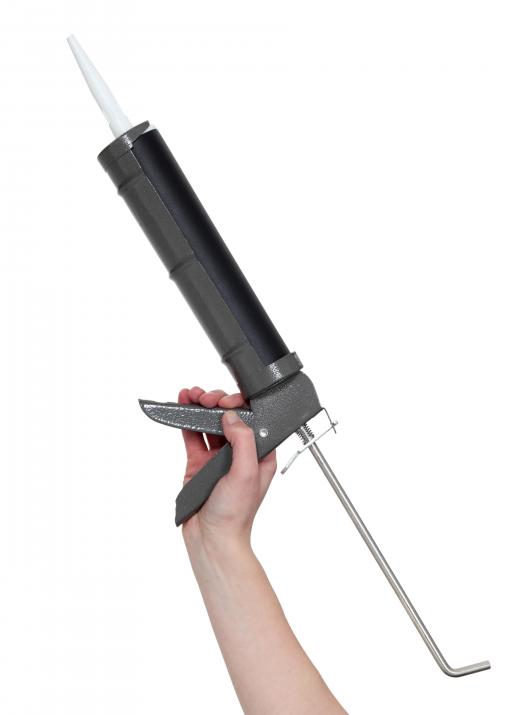 For small cracks, such as those that are about 0.125 inch (about 3 mm) wide, start by using a screwdriver to chip away any flakes or loose concrete. Scour the cracks with a wire brush to remove any dirt and debris. Rinse the area using a hose or a bucket of water.
Next, mix up a small batch of concrete patching compound, which is available at most hardware stores. Using a latex additive will allow the compound to expand naturally through cold and hot weather. Trowel the compound into the cracks using a small putty knife. Smooth the surface right away, while the compound is still moist, because concrete compounds typically begin to set very quickly. Allow your repair work to dry thoroughly before you let anyone walk or drive on the surface.
Repairing Large Cracks
The beginning steps for repairing larger cracks in concrete are the same as for small cracks, but larger ones require the use of more advanced techniques: caulking or sand packing. Use a screwdriver to chip away any flakes or loose concrete. Scour the cracks with a wire brush, and rinse them out using a hose or a bucket of water.
To employ the caulking method, get some siliconized latex concrete caulk, which is available at most hardware stores. Using a caulking gun, force the caulk deep into the cracks along their length and breadth. The caulk will expand to fill the crack, and the nature of the substance will allow for expansion and contraction during weather changes, cutting down on the frequency of future repairs. The caulking compound will self-level, so there is no need to smooth the surface, but for large cracks, multiple applications may be needed.
If you choose to use the sand-packing method, you will need to buy sand and concrete patching compound, preferably with a latex additive for flexibility. Pour in a layer of sand to help fill the cracks, then apply the patching compound on top of it with a trowel. Smooth the surface quickly, and feather the new surface into the existing edges for a finished look.
Excessive Damage
For serious or exceptionally large concrete crack repairs, you might need to call in a professional. This is especially true if the cracks appear in the foundation of your home. A professional can conduct a risk assessment survey to find out whether there is structural damage that needs to be addressed. He or she may also be able to determine the cause of the cracking, and how future damage might be avoided.
AS FEATURED ON:
AS FEATURED ON:

Cracked concrete.

By: Taweesak Ngamamornpi

A closeup of a crack in concrete.

By: auremar

Caulking with silconized latex concrete caulk might be needed for large cracks.

By: Yali Shi

Cement powder is commonly made of limestone and clay and is a key ingredient of concrete.

By: yunava1

A trowel may be used to repair cracked concrete.