What Is the Difference between an English Garden and a French Garden?
There are as many differences between and English garden and a French garden as there are similarities. They're both founded on the principles of the original English garden which the Romans introduced to England upon their arrival in the 1st Century A.D. The English garden is a style of landscaping garden that was popular across the European continent. The French garden took its roots in the 16th Century with heavy influence from the Italian gardens of the time. The French garden is directly associated with Andre Le Notre.
English gardens were an attempt to blend into the natural landscape, growing a little on the wild side, while blending in romantic elements. Romantic elements were introduced in the 18th Century and included ponds or small lakes, bridges or long docks on the water, imitation ruins, and sculptures. "Chinese" pavilions are also commonly associated with an English-style garden. Each of the romantic elements in an English-style garden is incorporated into the foliage to enhance the wild look of the garden.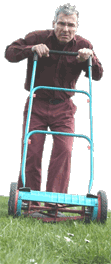 French gardens are also called formal gardens and are exactly that; formal. They follow very strict geometric lines. Plants are arranged so that they maintain the geometric and symmetric layouts. They are trimmed and pruned on a regular basis to keep them from obtaining that overgrown look, typical of an English-style garden. In larger gardens, lanes or paths branch off from the center, which, according to tradition, is a building façade, going outward so visitors can stroll through each section. Lanes are often paved with gravel. French gardens traditionally include lawns for large scale gardens.
French gardens have their own romantic elements; however they borrow a lot from the English garden. Where an English-style garden may have a pond, the French garden will have a reflecting pool accented with fountains or sculptures and always following a geometric pattern. Large-scale French gardens will also have parterres. They are the construction around the plants and consist of stone or carefully maintained hedges to create symmetrical, or even geometrical, patterns. Claude Mollet is credited with the creation of the parterres.
If you're looking to plant a garden and want a specific look, remember these basic pointers. French gardens are very geometric. The center should have some sort of façade and emanate outward. They are high maintenance but well worth the effort. If you're after an English garden look, let your plants get a little wild looking, add at least one romantic element, and use foliage that naturally adds color to the landscape.
French Garden Landscaping Ideas
In French landscaping, the house is usually the focal point of the garden, which radiates out on all sides. Houses typically have window boxes, effectively making the home part of the garden. French gardens take a lot of work to maintain, but they are among the most stunning when done right.
Paths run out from the house, perpendicular to its walls. These paths are often lined with parterres, which are short walls made of stone or, more often, low shrubs that are strictly manicured. French gardens are highly symmetrical, with parterres often grown in elaborate designs and filled with a mix of annual and perennial flowers for a long season of blooms.
French Garden Hardscapes
In French gardens, gravel paths and stepping stones are used both to define areas of the garden, but also to provide drainage so the roots of the plants aren't drowned. Rocky surfaces can help keep weeds from growing, but it's advisable to put down a weed barrier before the stone goes down.
A reflecting pool is a typical feature in French gardens. Fountains and other water features also provide interest. In larger gardens, a swimming pool can be a secondary focal point, surrounded by a stone deck and parterres.
French gardens wouldn't be complete without a variety of planters. Use large urns at the sides of a door or other architectural features such as patios or pools. Cast iron Medici urns are popular, as are hand-made Anduze urns, made of terracotta and painted with green and yellow glazes.
Anduze urns were traditionally used to plant citrus trees; check your local climate to see which are hardy outside all year and which may need to be brought into a greenhouse or your home during winter.
Other Outside Decor
French garden furniture is traditionally made of iron and marble or alabaster, and are strong and sturdy enough to withstand storms. Another variety of furniture is faux bois furniture, made of cement in forms that mimic tree trunks and branches.
Whimsical additions to a French garden can include collections that are hardy enough to be displayed throughout your garden. Antique watering cans, with spouts reminiscent of flowers, are popular. Lightning rods and weather vanes in the shape of roosters make a nice addition to your French garden. Sculptures and statuary are also common features.
English Garden Landscaping Ideas
When you think of English gardens, you immediately picture the cottage garden: a wild, free-flowing garden with many layers and textures. Groundcover plants spill over onto stepping stone walkways, and there's no careful manicuring like there is in traditional French gardens.
Paths meander throughout English gardens, often leading to wrought iron or teak wood benches where you can sit a spell and enjoy the racket of scents coming from your garden. Traditional cottage gardens were planted with vegetables, medicinal herbs and fragrant flowers to mask the fact that most homes did not have bathing facilities.
English Garden Hardscapes
Arbors are often found in English gardens, with floral vines growing on both sides. Climbing roses are traditional, as the rose is England's national flower. Benches are often found just beyond the arbor, giving you a quiet spot to enjoy a cup of tea and a good book.
Pergolas are another popular feature of English gardens. They can define a space in your garden where you could enjoy outdoor dining with friends. The tighter the lattice atop your pergola, the more shade it will provide you.
Brick and gravel are classic materials used to define paths through your raucous English cottage garden. Yorkstone and flagstone are commonly used for stepping stones or to build a patio in your garden. Some English gardens give a nod to the French influence with geometric patios and small parterres nearby. parterres may also surround larger trees that may be in the yard.
A water feature is an integral part of an English cottage garden. In a larger yard, build a pond and surround it with rocks and grasses. In smaller areas, fountains or birdbaths provide lovely focal points.
Other Outside Decor
Gazing balls are popular additions to English cottage gardens, especially in front of a row of hedges. A brightly colored watering can may provide an extra bit of whimsy and mirth to your garden.
Wicker is a traditional material for outdoor furniture, as it provides a sturdy seat, drainage after rain or snow, and a lovely curved look to compliment the curving paths of your English garden. Other materials may include teak, wrought iron, or bent willow.
AS FEATURED ON:
AS FEATURED ON:

Man mowing the grass