What is the Difference Between an English Garden and a French Garden?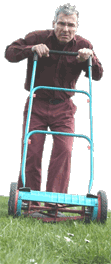 There are as many differences between and English garden and a French garden as there are similarities. They're both founded on the principles of the original English garden which the Romans introduced to England upon their arrival in the 1st Century A.D. The English garden is a style of landscaping garden that was popular across the European continent. The French garden took its roots in the 16th Century with heavy influence from the Italian gardens of the time. The French garden is directly associated with Andre Le Notre.
English gardens were an attempt to blend into the natural landscape, growing a little on the wild side, while blending in romantic elements. Romantic elements were introduced in the 18th Century and included ponds or small lakes, bridges or long docks on the water, imitation ruins, and sculptures. "Chinese" pavilions are also commonly associated with an English-style garden. Each of the romantic elements in an English-style garden is incorporated into the foliage to enhance the wild look of the garden.
French gardens are also called formal gardens and are exactly that; formal. They follow very strict geometric lines. Plants are arranged so that they maintain the geometric and symmetric layouts. They are trimmed and pruned on a regular basis to keep them from obtaining that overgrown look, typical of an English-style garden. In larger gardens, lanes or paths branch off from the center, which, according to tradition, is a building façade, going outward so visitors can stroll through each section. Lanes are often paved with gravel. French gardens traditionally include lawns for large scale gardens.
French gardens have their own romantic elements; however they borrow a lot from the English garden. Where an English-style garden may have a pond, the French garden will have a reflecting pool accented with fountains or sculptures and always following a geometric pattern. Large-scale French gardens will also have parterres. They are the construction around the plants and consist of stone or carefully maintained hedges to create symmetrical, or even geometrical, patterns. Claude Mollet is credited with the creation of the parterres.
If you're looking to plant a garden and want a specific look, remember these basic pointers. French gardens are very geometric. The center should have some sort of façade and emanate outward. They are high maintenance but well worth the effort. If you're after an English garden look, let your plants get a little wild looking, add at least one romantic element, and use foliage that naturally adds color to the landscape.
Man mowing the grass