A cottage is a modest structure that is typically one to one-and-a-half stories tall. People have been living and working in cottages for centuries, and depending on regional norms, the precise definition can vary widely. Many people also have very specific associations with the term, and these associations often relate to the typically small size, quaint architecture, and rural nature of the traditional structure.
The term "cottage" appears to have entered English around the 13th century, and it probably comes from either Old French or a Germanic language. The term may also have been used to describe the dwelling of a cotter, a type of serf in the Middle Ages. By all accounts, the term originally referred to a small dwelling structure, a barn, and an enclosed yard, with the concept of one as a small residence in the country emerging around the 1700s.
Early cottages were probably small, dark, and quite unpleasant, and the term carried definite connotations of poverty and hard times for centuries. In the Romantic Era, when country life began to acquire an intrinsic value in the eyes of many people, the structure experienced a change of fortunes, and people began actively building and seeking out cottages to use as vacation homes and sometimes as permanent residences.
In order to be considered a cottage, a structure must typically be quite small; in some countries, specific legislation actually dictates the size of such a house. Ideally, it has one story, although it may have a second half-story for the purpose of storage. Cottages can be built from a wide range of materials including stone, wattle and daub, or wood, and they may be tiled, thatched, or roofed with shingles, depending on the region.
Typical cottages are detached, and most people do not use the term to refer to a modest home in an urban area, even if it meets the definition. Many people think of such houses as cozy, and they associate them with comfort and minimalistic living. Others may think of them as vacation homes, although plenty of people around the world live in these homes by choice or necessity.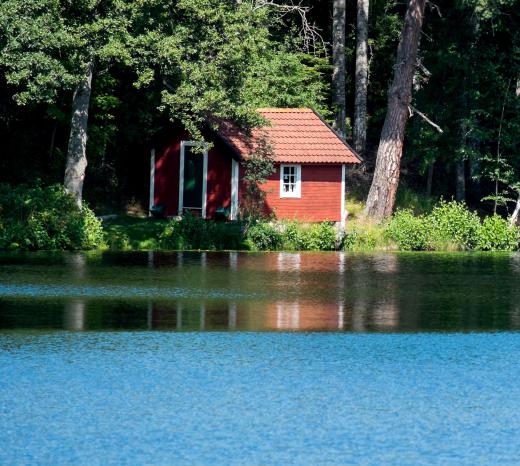 Although modern cottages need not be surrounded by the trappings of a working farm, many have at least a small garden. Depending on how one is used, it may have a range of amenities that are designed to make it extremely comfortable, or it may be more simplistic. Many are also deliberately designed to be rustic, with features like plank floors, exposed beams, and hand-carved woodwork.
AS FEATURED ON:
AS FEATURED ON:

By: Adrian Hillman

Chalet-style cottage.

By: silvergull

Thatched-roof cottage, Wales.

By: lawcain

Residential cottages can be yearlong retreats.

By: rolf_52

Many vacation cottages are placed alongside lakes.

By: emf_images

Cottage suites may include a private hot tub.