What is the Difference Between a Patio and a Porch?
The main differences between a patio and a porch are the area of a home in which they are built, their elevation, and the materials with which they are constructed. They are generally designed for similar purposes, and each can be about the same size and shape. They are each usually placed at opposite ends of the home, although this is not always the case.
One of the primary differences between a patio and a porch is that a porch is usually placed directly in the front of the house and it connects to the front door. A patio is typically located in the back of a house and may be connected to the back door or not, depending on the home's design. Sometimes a patio may be placed closer to the side of the house, while others may not be attached to the home at all.
This difference is apparent in the names used for each item. Patio means "backyard" in Spain while porch is derived from a Greek word meaning "entrance." Although these are the traditional meanings, there are some homeowners who may choose to construct a patio-like platform somewhere other than the backs of their homes and a porch somewhere other than the front. Some porches actually extend from the front door all the way around one or both sides.
Another main difference between a patio and a porch is that a patio is usually built at ground level from bricks, concrete slabs, or tile. A porch, on the other hand, can be made from concrete or wood and is level with the front of the house. This may mean that it sits at ground level as well or it may be higher up to meet with a house that sits on a crawl space or basement foundation. Porches are also generally used for sitting or gathering, while patios are often larger and can accommodate an outdoor dining table or sitting area.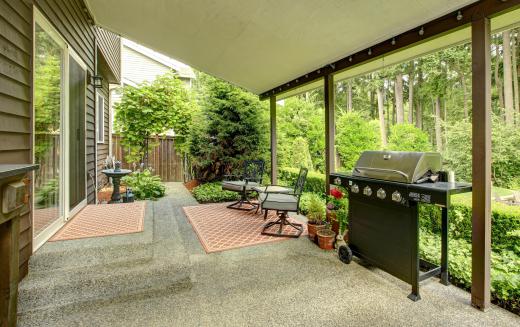 Other differences between a patio and a porch are that porches are almost always covered with a roof and patios often are not. Sometimes a covered porch may be placed in the back of a house, and a patio may be present in addition. Porches can also be entirely covered with windows or screening so that they almost resemble an additional room of the home. Patios are normally out in the open and may or may not have railings or another border.
AS FEATURED ON:
AS FEATURED ON:

By: Cheryl Casey

A porch is near the front entrance to a house.

By: Christopher Dodge

Patios are typically built at ground level.

By: Iriana Shiyan

A semi-enclosed patio or porch could be a good compromise in locations that are hot and humid.

By: junej

Patios and porches may be made of wood.