A covered porch is an area connected to or just outside of an entry way to a house or similar building. It is typically constructed to provide people with a small area in which to pause before entering a house, often to remove wet or muddy shoes. The area can also be larger and provide space for people to sit or entertain guests. A covered porch is especially suited for such purposes, since the covering can protect from harsh weather such as rain and snow and provide shade in regions of intense heat.
While not all porches are covered, a covered porch typically provides a more effective and useful space for someone. The porch area will usually be around an entrance to the house or building, and this can include either a main entrance or a back door. Back door porches are typically referred to as patios, however, since they may more often serve as areas for hosting and entertaining, rather than the more practical uses also provided by a porch. These two terms are somewhat synonymous for many people, however, and a covered porch can provide a great deal of utility for hosting guests and meeting neighbors.
A covered porch will typically consist of a small space around the main entrance to a house, often raised by a few steps, and covered with wood or other structures. Depending on the size and nature of the porch, this can be a simple wooden covering or a more elaborate concrete or brick structure. Most American homes utilize a wooden covering, when a covered porch is provided or added onto a home, for simplicity and durability. Covered porches are often built onto houses when they are constructed, though they can also be added, either by constructing the entire area or adding a covering to an existing porch.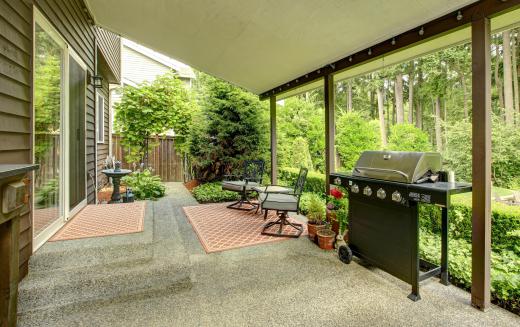 In some areas, a covered porch may also be enclosed with windows or screens to provide an area that is even more protected from the elements. This is often done to allow people to sit in the area without intrusion from insects. A covered porch is often used in some areas to provide someone with a place to remove shoes and similar garments that may be covered in snow or mud before entering a house. These types of porches are called "mud rooms" in some areas, and the covering allows a person to remove such articles without being snowed or rained upon further.
AS FEATURED ON:
AS FEATURED ON:

By: Cheryl Casey

A covered porch is found near the entrance to a home.

By: Iriana Shiyan

A semi-covered porch or patio may be a viable option in places that are warm and humid.