What Is Shabby Chic Furniture?
Shabby chic furniture is a casual style of furniture that focuses mostly on distressed furniture pieces, but sometimes employs accessories like slipcovers, picture frames, and other ornaments to achieve the look. Decorators and homeowners can use this style of furniture in nearly any room in a home, including outdoor living spaces. The price of store-bought or custom-made shabby chic items can vary just as widely as any other kind of furniture, though typically it is an easy and affordable do-it-yourself (DIY) home project.
Typically, the shabby chic style of décor features rustic furniture with chipped paint. The furniture might be older, vintage furniture with natural paint chipping that has accumulated over the years, or it might be newer furniture pieces with the chipped paint created on purpose. Although this kind of room décor usually focuses more on the furniture style, sometimes shabby chic accessories are used. For example, a decorator or homeowner might use shabby chic slipcovers over furniture pieces that don't match the shabby chic style. Too, some people use other decorative and functional objects that can be painted and chipped like picture frames, chandeliers, and even vases.
The shabby chic furniture style works well in most rooms, though some of the most common rooms in which homeowners employ the style include living rooms, dining rooms, and master and guest bedrooms. Many kinds of French country furniture and cottage furniture work well with a shabby chic style of décor. Most likely, this is due to the rustic nature the country and cottage style furniture already possesses. Also, shabby chic furniture works well in outdoor living spaces. The rustic, casual style works well on patios, balconies, decks, and front porches.
The cost and quality of shabby chic furniture depends on several factors. Generally, authentic vintage furniture in good shape costs more than contemporary pieces that have been made to look shabby chic, because vintage pieces are older and more valuable. At the same time, contemporary pieces can carry a steep price tag depending on factors like construction quality and the manufacturer.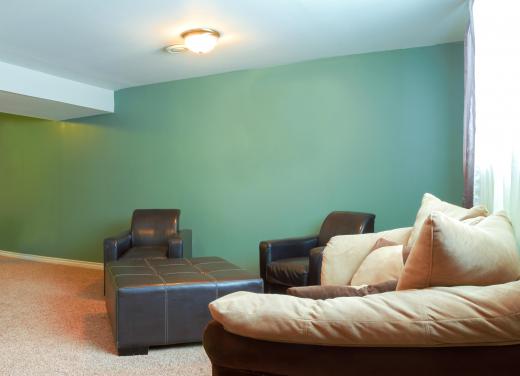 Some people prefer the DIY approach to shabby chic furniture. Many home decor television shows, websites, and books provide instructions for creating the shabby chic look, and most home improvement shops sell the necessary tools. Some companies even sell kits for creating shabby chic furniture and other decorative pieces. These kits include tools like paints, stains, and brushes and sanding blocks, emery files, and edge scrapers. Depending on the desired final look, a special kind of glaze or "crackle" might be used to finish the project.
AS FEATURED ON:
AS FEATURED ON:

By: James Steidl

A pop of color in a vintage accessory can make shabby chic more fun.

By: koume129

An ornamental birdcage fits the shabby chic style.

By: sergey02

Living rooms may feature shabby chic furniture.