Ornamental iron is a decorative element used in fences, gates, handrails, and patio furniture. Also known as wrought iron, it is virtually weatherproof and makes an attractive building material. Home designers will often incorporate iron embellishments in the renovation of a vintage residence, both for security and for a look of refinement. When used as a decoration, ornamental iron can make a stately and elegant pronouncement about a homeowner's taste.
There are many uses for ornamental iron in outdoor spaces. A wrought iron fence helps to keep out unwanted intruders, whether human or animal. A decorative iron gate can provide a charming entrance to a home's garden or patio area. Iron handrails on the front steps of a home offer steady support in slippery weather as well as an attractive design element.
Decorative iron gates and doors speak of an older, slower time. Real wrought iron is hand-forged in an iron works, where the metal is heated and carefully formed into shape by a blacksmith. Each piece is a custom design, and no two are exactly alike. Forged iron is both durable and functional, but the process of hand forging is difficult and dangerous. Prices depend on the size of the piece, and the amount of embellishment required of the ornamentation.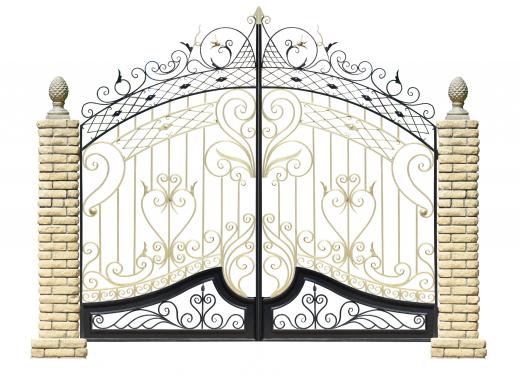 Ornamental iron is available in many styles, from standard bars and sheets, to elaborate scrolls, baskets, and stamped floral designs. Wrought iron doors and fences can be embellished with bars, balls, posts and pegs; or topped with jagged spear points for added security.
Modern alternatives to hand-forged iron include aluminum and a material known as mild steel. Both imitations are much easier to form into decorative iron pieces, but prone to corrosion. Hand-forged iron is practically impervious to weather, and will easily outlast aluminum or mild steel.
Cast iron is another type of ornamental iron. When compared to hand forging, casting provides an inexpensive and consistent way to manufacture decorative iron components. The metal is heated to a liquid state and poured into casts decorated with intricate designs. After cooling and hardening, the cast iron parts are ready to be welded into place.
Wrought iron patio furniture is a popular use for decorative iron. Glass tables may be framed in ornamental iron, with matching chairs in any style imaginable. The iron can also be fashioned into side tables, chaise lounges and gliders. Many people think the beauty of ornamental iron adds style and functionality to any outdoor space.
AS FEATURED ON:
AS FEATURED ON:

By: walko44

Real wrought iron is hand-forged by a blacksmith.

By: Swet

Ornamental iron can often be found in gates and fences.