Which is Better, a Vinyl, Chain Link or Wood Fence?
There is no simple answer to this question except to say that the best type of fence is the one that best serves its intended purpose. Fences are installed for a variety of reasons, ranging from safety for a pet or child to privacy or purely aesthetic purposes. Either a vinyl, chain link, or wood fence is a viable fencing option, each with its own set of pros and cons.
A vinyl fence is both aesthetically pleasing and as maintenance-free as a fence can get. Vinyl fencing comes in a variety of styles and heights, making it an ideal choice for just about every fencing purpose. Vinyl fencing is available in different colors and widths as well. The durable construction of vinyl fencing is appealing, as is the low-maintenance aspect of vinyl – no need to paint or stain, only to wash. However, vinyl fencing is usually more expensive per foot than the chain link or wood alternatives.
Chain link fencing is the least expensive type of fencing, but unlike a vinyl or wood fence, a chain link fence provides no privacy. A chain link fence will be a fairly durable fencing option, but one that is prone to rusting and pitting. However, wear and tear on a chain link fence is less obvious than wear and tear on a wood fence, and requires less maintenance. Chain link fencing is a terrific choice for limited budgets as well as situations where only temporary fencing may be required.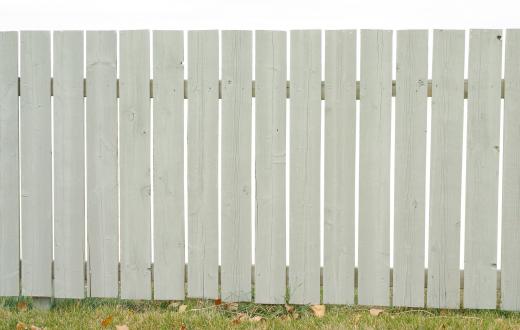 A wood fence combines aesthetics and privacy at a slightly more affordable price than vinyl. Wood fencing can be purchased in various heights and styles and can be accentuated by various post-toppers, making it possible to fence any style home accordingly. A wood fence looks nice and the natural characteristics of wood make it appealing to many homeowners. The biggest drawback to a wood fence is the maintenance.
Much like a wood deck, a wood fence needs to be washed and stained every couple of years to keep it looking nice. Wood fences may also rot away in places, making them less durable than vinyl and chain link fences. When choosing wood, expect a possible slight increase in homeowner's insurance, resulting from an increased risk of fire caused by stray sparks from an outdoor fireplace, grill, or damaged power line.
In short, choosing between a vinyl, chain link, or wood fence is a matter of affordability and overall appearance and function. When properly installed and maintained, most any type of fence is acceptable for keeping small children and pets safe, but privacy and appearance can only be achieved through vinyl or wood fencing options.
AS FEATURED ON:
AS FEATURED ON:

By: Toenne

The type of fence chosen depends of the property and use of the fence.

By: Johanna Goodyear

A wood fence can be aesthetically pleasing and affordable.

By: Jon Le-Bon

Galvanized steel wire is often used to weave the fabric of a chain link fence.