What is Ornamental Grass?
Ornamental grass is a type of grass which is grown for its showy foliage. Ornamental grasses can be grown in a variety of climates, from tropical regions to arid deserts, and they can serve a variety of functions in a landscaping schemes. Unlike lawn grasses, which require mowing and heavy maintenance, ornamental grasses are bred to be allowed to grow to their full height and size, and they require much less work and significantly less water, although people usually cannot walk on ornamental grasses.
These grasses range in height, from relatively short grasses to tall ornamental grasses which can grow over nine feet (three meters) in height. Many ornamental grasses have striped or splotched foliage with variegated colors, and their leaves may be especially interesting to look at. Some flower, and many produce seeds which appear in the late summer and fall. Ornamental grass can be interesting to look at both living and dead, with most gardeners trimming their ornamental grasses down over the winter so that new growth will have room to flourish in the spring.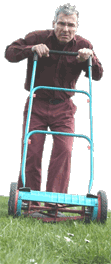 A typical ornamental grass needs to be planted in soil which has been prepared with fertilizer and soil amendments which will promote even drainage. Once established, the grass can be watered at varying intervals, depending on its water requirements. Gardeners can trim or shape ornamental grasses, or leave them alone, saving the pruning for the winter. Every few years, a bald patch will start to develop in the middle of an ornamental grass planting as dead growth builds up, indicating that it is time to divide and replant the grass to get rid of the dead growth.
Gardeners who want to work with native plants usually have a range of suitable ornamental grasses to choose from, with many nurseries carrying native grasses. It is also possible to find non-natives which are suited to someone's gardening zone, along with exotics which may require a little more work to cultivate. Ornamental grasses can be used to create texture in a landscape, to fill in empty areas, to line paths, and in a variety of other ways, depending on someone's landscaping scheme.
Some examples of ornamental grass include; plume grass, blue fescue, perennial fountain grass, blue lymegrass, feather reed grass, switchgrass, ribbongrass, Japanese silver grass, northern sea oats, rabbit's tail grass, quaking grass, sedge, flame grass, pink muhly, piglet fountain, maidengrass, lilyturf, bluestem, and hairgrass. These ornamental grasses can be grown from seeds, plugs, or whole plants purchased at a nursery.
AS FEATURED ON:
AS FEATURED ON:

Man mowing the grass