Linen thread is made from the flax plant, Linum usitatissimum. It is the strongest natural fiber used for thread. The fibers are naturally light colored, and manufacturers often sell the thread in its natural color, although most offer it in various colors. Many experts believe that linen is the oldest known cloth, and it is still popular in modern times. Some of the uses for the thread include bookbinding, basket weaving, and making delicate lace.
There are two methods for sizing linen thread. The most common is a two-number system, where the first number is the weight of the thread and the second number is the number of strands. For example, 12/3 thread is much thicker than 35/3 thread, and both have three strands. The other method is called cut, and 1-cut is 1 pound (about 0.45 kg) of flax spun into 300 yards (about 274 m) of thread or yarn. The 2-cut is 1 pound of flax spun into 600 yards (about 549 m) of thread and is much finer than 1-cut.
Natural unwaxed and waxed are the two types of linen thread. Manufacturers add a beeswax coating to add strength and weight to the light linen threads. Working with waxed thread may be difficult for people who are inexperienced with it.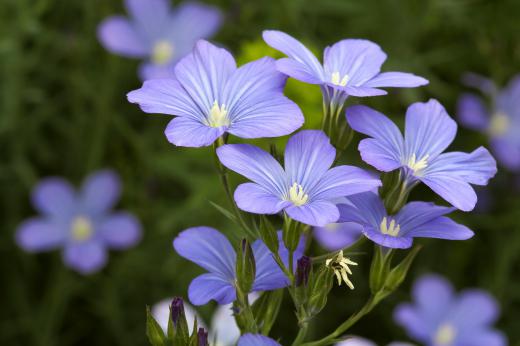 One of the most common uses for linen thread is stitching the sections of pages in bookbinding. Another popular use is for lacemaking. Often lacemakers use very fine linen threads, which create light, delicate lace. Crafters use heavier thread in basket weaving and leatherwork.
Manufacturers use linen fabric for many things, including sailcloth, canvas, and domestic fabrics. Often, but not always, people prefer linen threads to sew projects with these products. In fine linen garments, dressmakers usually want the linen threads to match the fabric because it adds a professional look. Dressmakers also use it for sewing on buttons because of its strength.
In basket weaving, crafters usually add colored linen threads as an accent. In some basket-making techniques, the weaver uses heavy, 7-ply thread as basket spokes and to weave the reeds, pine needles, or other organic material together. Other craft-related uses for waxed linen threads include jewelry making, macramé and knotting art, and embroidery. In the summer, linen is cooler than cotton and synthetic fabrics to wear; therefore, many people prefer linen clothing and embellish it with embroidery using linen threads.
A specialized use for linen thread is for surgical stitches. Although many surgeons prefer synthetic surgical thread, there is a demand for natural fibers. Linen typically exhibits fewer disadvantages than the catgut or silk threads.
AS FEATURED ON:
AS FEATURED ON:

By: Marina Lohrbach

The flowers of a flax plant, the stalk of which is used to make linen.

By: Viktor

A folded square of linen.

By: barneyboogles

Sheets made with linen thread.

By: Tyler Olson

Dressmakers use linen thread to sew on buttons and for use in fine garments.