What is Indoor/Outdoor Carpet?
Indoor/outdoor carpet is special carpet made to be used outdoors and survive the abuse of various types of weather. It is typically not as comfortable as carpets made for strictly indoor environments, although there are some legitimate uses for indoor/outdoor carpet inside a home as well. If you'd like to carpet a porch, a sun room, a playroom, a changing room (as for swimming) or a mudroom, indoor/outdoor carpet may be the best choice, since it will last longer under especially wetter conditions. It can also be directly glued to surfaces like concrete and is usually less expensive than strictly "indoor" carpet types.
Many people favor the use of indoor/outdoor carpet types, especially for the above-mentioned areas. Also, it can be used around pools, to carpet a front walk or a deck, or to carpet any outside area that has a flat stable surface underneath. It's not practical if you're laying carpet directly over dirt, wood chips, or other loose soils. You'll need a flat, stable surface in order to attach the carpet.
Some styles that were particularly popular in the past were similar to Astroturf, rubbery and somewhat resembling the texture of grass. It's certainly not as well cushioned as grass, as any athlete who's played on Astroturf can tell you. More modern types include carpets that come in a variety of colors, but the most popular colors tend to be those that blend with outdoor environments. These include varied shades of green, light to dark brown, gray, and black. Trend in indoor/outdoor carpet styles is to make the carpet look similar to indoor types.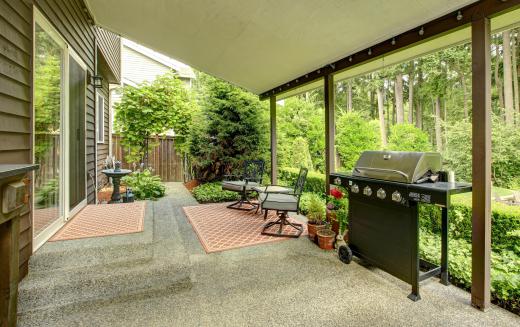 Choice of material for indoor/outdoor carpets range from plastic, rubber or synthetic fibers that will survive a beating but still look good. There are also now indoor/outdoor rugs that you can simply lay down over a surface. Again, the surface you place the carpet on needs to be pretty stable. With these types of carpet, you don't typically use a carpet pad, but instead place the indoor/outdoor carpet directly onto the surface you want to carpet.
While we may be used to cushy carpet indoors, most versions of indoor/outdoor carpet are not as comfortable or soft. When it's used to carpet main rooms indoors, you may not care for the look, since the carpet can look pretty "cheap." On the other hand, if you're planning on carpeting a playroom, you may care less about appearance and more about how long the carpet will last under the very active feet of kids. In this case, durability, cleanability and playability may be more important than looks, and comfort becomes a secondary consideration. You can see lots of different indoor/outdoor carpet styles at home improvement stores, and flooring and carpet stores; clearly this type of carpet remains popular, which is reflected by much wider variety in style.
AS FEATURED ON:
AS FEATURED ON:

By: Wollwerth Imagery

Indoor/outdoor carpet may be used in a sun room.

By: Iriana Shiyan

Indoor/outdoor carpet may be used on a porch.

By: Constantinos

Indoor carpet will need to be vacuumed occasionally.

By: maigi

Indoor/outdoor carpeting may not be as comfortable or soft as indoor carpeting.