Fleece fabric is a type of material that is usually very soft. It is can be manufactured from recycled plastic bottles or synthetic fibers, such as polyethylene. This material is generally lightweight yet breathable, which means air can flow through it easily. It is often used to make blankets, sweaters, jackets, hats, mittens, and scarves, among other items.
This cloth is often preferred over wool because it is usually softer. It is also usually also lighter in weight. Some people may find themselves becoming itchy when they wear wool, but do not usually have such a reaction to wearing garments made from this man-made type of textile.
Fleece fabric can be made from synthetic fibers, like polyethylene, a type of plastic resin. It can also be partly constructed of plastic jugs or bottles that have been recycled. This usually means that this material is relatively inexpensive while being good for the environment at the same time.
Often, sweatshirts, jogging pants, and other athletic garments are made from fleece fabric. This is because this cloth tends to keep perspiration away from the body while allowing air to circulate through the fibers. This typically serves to hold down odors associated with sweating during strenuous physical activity.
Blankets and throws are also commonly made from fleece fabric. This is because the material is not only lightweight but warm as well. This can make it a good choice when people are traveling or attending outdoor activities, such as football games.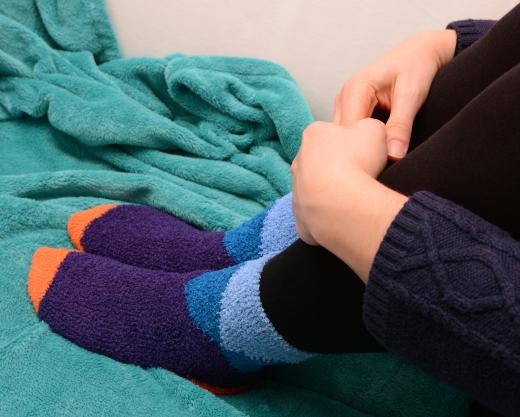 In addition to being used for blankets and active wear, it is also desirable for cold weather clothing. This can include jackets, gloves, hats, and scarves. This cloth normally has a short pile to it, which tends to increase body temperature when placed near the skin.
It can be easy to make items with fleece fabric. This can usually be done with a home sewing machine. It is generally easy to cut with a pair of household sewing shears. This fabric is available in a variety of prints and colors, so making an item to suit almost any taste or style can be accomplished fairly simply.
Fleece fabric can be purchased at most craft stores or sewing supply retailers. It is usually inexpensive and easy to work with. It is also simple to care for and holds its shape well. This can mean garments or household items made from this material can be good choices for people of all ages.
AS FEATURED ON:
AS FEATURED ON:

By: Serghei Velusceac

Fleece fabric is generally easy to cut with household shears.

By: sarahdoow

Fleece may be used to make cold weather socks.

By: Maridav

Fleece is good for cold-weather clothing.

By: dimedrol68

Fleece fabric is commonly used to make blankets and throws.

By: RTimages

Thin fleece gloves can be worn under bulkier wool gloves for added warmth during cold weather.