Faille is a type of fabric which is woven with a faintly ribbed pattern, creating a distinctive textured feel. This fabric is often used on formal dresses and gowns, and it can also be used to make jackets, vests, skirts and other garments. Drapes and upholstery may utilize faille as well, typically a heavier grade of this fabric which is designed to stand up to hard use. Many fabric stores sell faille in a rainbow of colors for people who want to work with it, and the fabric also appears in garments in department stores, for people who want ready to wear garments.
Cotton, rayon, and silk can all be used to create faille, which is also called bengaline in some regions of the world. In all cases, the texture of the fabric is like that of grosgrain; it is ribbed and slightly stiff. The stiffness makes faille incredibly useful for clothing, as it tends not to deform or wrinkle, and it can be used to create supportive garments or snug-fitting bodies which will look good after hours of wear.
This fabric is primarily worn by women. It has an excellent drape, which is why it often appears in wedding gowns, and it was historically popular during the 1940s and 1950s for gowns and dresses. This fabric is also durable and often quite rugged; it is often very resistant to stains and tearing, for example. When the woven fabric is made with heavier materials, it can sometimes withstand quite intensive and varied uses.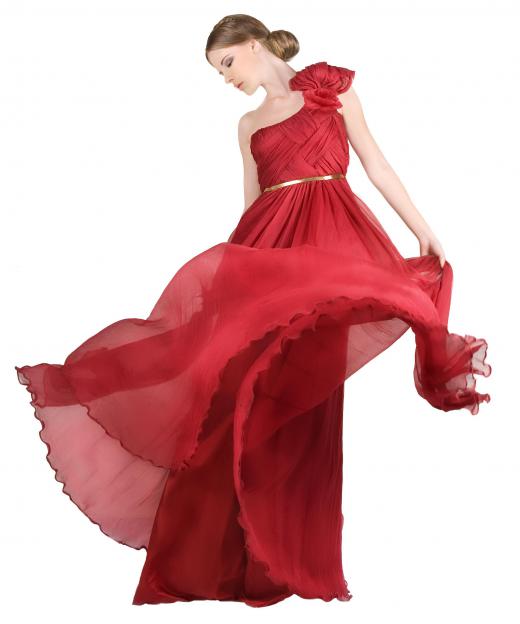 Like other ribbed fabrics, faille has to be cut carefully. When you are assembling a pattern, think about how the pieces will fit together, as you want to avoid creating strange patterns with the ribbing of the faille. Ideally, the ribbing of two connecting pieces should match up for a smooth look; avoid perpendicular angles unless you are going for a very specific desired look. It is also important to make strong hems and seams, so that the fabric will not ravel.
In addition to stocking faille in a variety of colors, many fabric supply stores carry undyed or white fabric which you can dye to your own specifications. Since ribbed fabrics can be challenging to dye at times, it is a good idea to consult someone who is experienced with textiles about dyeing faille, to ensure that you get a smooth, even look.
How To Clean Faille Fabric
Faille fabric can be made of many different materials, including silk, cotton, viscose, polyester, rayon and wool. Some sources say to clean according to the fabric from which the garment is made, which would indicate that several types of faille could be washed at home.
The safest bet is dry cleaning, regardless of material. The unique ribbing of faille fabric can make it challenging to properly care for at home. However, you may have some success using an in-home dry cleaning bag.
For spot cleaning, you could use a solvent for oily stains and a natural soap with a damp cloth for other stains. It's better to let a professional take care of your faille garments or draperies. If your furniture is upholstered in faille, you may have to go with the spot cleaning solutions.
Is Faille Fabric Stretchy
Faille fabric is not very stretchy. It's stiffer than other types of fabric, making it ideal for use in more formal attire such as cocktail dresses, suits, evening gowns, ties, bridesmaids' dresses, vests, cummerbunds and wedding dresses. It's ribbed, which provides much of its structure, though the ribbing is less pronounced than that of grosgrain fabrics.
Faille fabric holds its shape well, making it a great choice for dresses with pleats or structure to them. The downside is that if it bulges out in places you don't want bulging, it's going to stay that way unless a talented sewer gets their hands on the dress.
How to Dye Faille Fabric
You can dye faille fabric in a similar manner to dyeing other fabrics. Using Rit or another fabric dye can give you the perfect custom color you're looking for.
You need some supplies to help you dye your faille fabric, including:
Fabric dye appropriate for the type of faille you want to dye
A large metal spoon and a measuring cup
A stainless steel sink or large plastic container
A plastic table covering
Rubber gloves
Paper towels
Salt or vinegar, depending on the type of faille you're dyeing
Dishwashing soap
The Dyeing Process
First, weigh the fabric you want to dye. Depending on the fabric dye you're using, one bottle typically dyes about 2.2 pounds, or one kilogram, of fabric. Next, test a swatch to make sure you're going to get the results you want. To remove any finishes that may get in the way of your dye, wash the fabric in soapy, warm water that does not contain any fabric softener.
Cover your work area with a plastic tablecloth and keep your paper towels close at hand. Don your rubber gloves to keep your hands from being dyed and insulate them from the heat of the water you'll be dyeing in.
Fill your container or sink with enough water for the fabric to be able to move around. The water should be about 140 degrees Fahrenheit, or 60 degrees celsius. Add your salt or vinegar according to the fabric type you're using. Add a little dishwashing liquid to help the dye be uniform.
Pour in your dye, and test it with a paper towel. If the color is lighter than what you want, add more dye. If it's too dark, add more water. Wet your fabric thoroughly, squeeze out all the excess water, and add it to the dye.
Slowly stir your faille fabric for at least 10 minutes to ensure even coloring. You can leave the fabric in the dye for up to an hour, depending on how saturated you want the color. Pull it out every 10 minutes or so to see how dark or light it is. Keep in mind that it's going to be darker wet than when it dries.
Rinse your faille fabric in cold water until the water runs clear. Wash it with warm water and a gentle detergent, rinse and dry.
Faille Fabric Vs. Silk, Satin and Grosgrain
Silk is a type of fabric. It describes the material it's made from. Faille, grosgrain and satin are fabric finishes, and can be made from a variety of materials.
Satin is made with a smooth weave, giving it a soft, silky-smooth feel, caused by having more weft threads than warp threads.
Grosgrain is similar to faille in that it's ribbed by having more warp threads than weft threads. However, its ribs are larger and wider than those of faille fabrics.
Faille falls somewhere in between satin and grosgrain. It's not as smooth and buttery as satin, and not as highly ribbed as grosgrain.
Frequently Asked Questions
What is the background of faille fabric?
Faille cloth has been woven in France since the early nineteenth century. Its name comes from the French word "filer," which means "to spin." The fabric's unusual ribbed structure and resilience have made it famous ever since it was first woven on a handloom. Faille was often used to make long-lasting garments, and it is still popular today for its classic style, which is commonly utilized in formal wear such as suits and dresses.
What is the texture of faille cloth?
Faille fabric has a mild ribbed texture, a slight shine, and a delicate drape. Because of the ribbed texture, it is a popular choice for formal attire. Because the fabric is so strong and long-lasting, it is ideal for garments that will be worn frequently.
What colors is faille fabric available in?
Faille fabric comes in a variety of colors, including black, blue, white, beige, and grey. The fabric is also available in a number of prints, including paisley, plaid, polka dots, and floral patterns. Bright colors, on the other hand, are rarely employed because faille is frequently used to create garments with a traditional and timeless aspect.
What types of garments are best suited to faille fabric?
Faille cloth is ideally suited for formal wear such as suits and dresses. Because of its exquisite appearance and delicate drape, it is ideal for constructing special event clothing. The fabric can resist normal wear and tear because it is extremely tough and long-lasting.
How do you care for faille fabric?
Faille cloth is relatively easy to maintain. It should be washed in cold water on a moderate cycle and hung to dry. If necessary, iron on a low heat setting. It is also vital to maintain the cloth clear of strong chemicals that could damage it.
AS FEATURED ON:
AS FEATURED ON:

By: 14ktgold

Faille may be featured in vests and ties.

By: Soare Cecilia

Formal dresses may feature faille.

By: svehlik

Drapes may features faille.

By: gromovataya

Faille often appears in wedding gowns.