What is Georgette Fabric?
Georgette fabric is a textile traditionally made from silk, although synthetic fibers such as polyester are sometimes used as well. The thing that makes georgette fabric distinctive is the crinkly crepe-light texture, which feels slightly rough and dull, but gives the fabric a bouncy, flowing look. Many fabric stores carry georgette fabric in a range of colors and prints for various projects. Department stores also carry clothing and drapery made from georgette.
The threads used in georgette fabric are highly twisted, which causes them to crinkle as they relax. The weave of georgette tends to be rather tight, but the overall appearance is slightly sheer, since the threads are very thin. Unlike some fine silks, georgette fabric is also unusually strong, and it holds up well to varied wear. Since silk is highly absorbent, georgette fabric can easily be dyed in a myriad of colors, or printed with a pattern.
The crepe-like texture of georgette fabric makes it very springy, so that the fabric almost appears to move on its own. It also drapes very well, making it a popular choice for women's fashions in which clingy, flowing fabrics are favored. Since georgette fabric is thin, it is also lightweight, and can be used as a layer in a larger garment without being heavy or bulky. Layers of georgette fabric may be used for a fanciful effect, especially in gowns.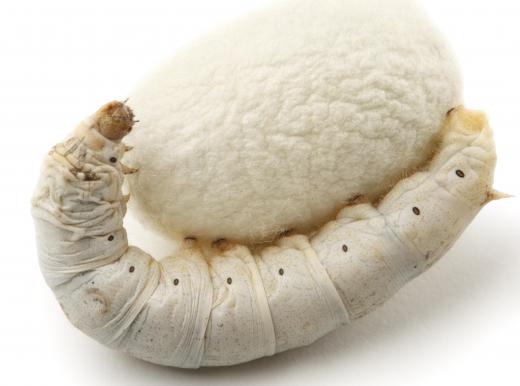 Bridal gowns, evening dresses, and other formal wear are sometimes made with georgette fabric. It may also be used to make jackets and shirts, usually for women. The fabric can be left plain, or decorations such as embroidery and beading may be added. Decorations are usually kept simple so that they do not drag the fabric down and pull the garment out of shape. High load seams may be doubled to ensure that the fabric does not unravel.
Because georgette fabric is textured and slightly slippery, it can be difficult to sew. Interweaving tissue paper or something similar can help to keep pieces of the fabric together while they are worked on, and pins should be used with caution since georgette fabric can show pin holes. As a general rule, georgette fabric can be hand washed in cold water with mild detergent and hung to dry, although it should be kept out of the sun to avoid fading. In some cases, dry cleaning may be necessary; always check product tags to make sure that you care for the garment as the manufacturer recommends.
AS FEATURED ON:
AS FEATURED ON:

By: gitusik

Pink silk scarf made of georgette fabric.

By: lily

Crape is a fabric traditionally made of silk, which comes from the cocoon of the silkworm.

By: tayindigo

Georgette fabric is often used for bridal attire.

By: LoloStock

Georgette fabric should typically be hand washed in cold water with mild detergent.