Chiffon velvet is a type of velvet that is very lightweight, allowing it to drape in a variety of ways. It is often used in lingerie and other intimate items, and it also appears sometimes in formal dresses and skirts. Many fabric stores carry this velvet in an assortment of colors for people who want to custom-make garments, and various examples can also be seen in antique stores and in department stores in modern garments.
This style of velvet is sometimes called "transparent velvet," in a reference to its sheer nature. The backing is typically silk or rayon, with a rayon pile. Like other velvets, chiffon velvet is woven in such a way that it has a very deep, complex texture, and it is also very stretchy and forgiving. The pile can be left plain or embossed with various designs, depending on the manufacturer's inclination and the demand for a particular style.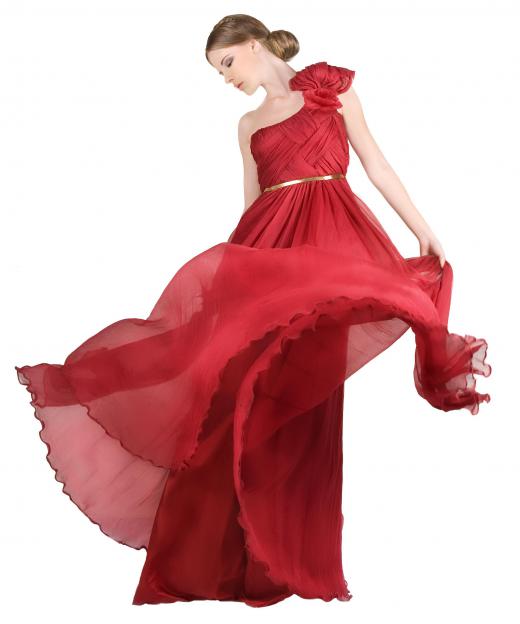 When well cared for, chiffon velvet can last a long time, especially if it starts out as a high-quality textile. Because it has a tendency to unravel, it is very important for people who sew with it to bind the seams to keep them secure, as otherwise the garment may start to fray and ultimately come apart. The fabric should be washed at cool temperatures and hung to dry, and it should not be ironed, as this can press the pile of the fabric out of shape.
Seamstresses often love to work with this material because it drapes so elegantly on a wide variety of figures. The light weight keeps the fabric from being oppressive, even when a lot is used, and this can be very useful in warm weather or warmer climates, where traditional velvets might feel too heavy to be worn. It is common to see it draped in folds, and it may be embroidered, beaded, or otherwise decorated.
As a general rule, chiffon velvet is used primarily in women's clothing, because the fabric does not lend itself well to men's designs. In addition to being used in things like dresses and skirts, it also shows up in scarves, hats, sashes, purses, and other accessories.
AS FEATURED ON:
AS FEATURED ON:

By: Soare Cecilia

Chiffon velvet is often used to make formal dresses.