What is an a-Frame House?
An A-frame house is characterized by a steep, triangular roof that resembles the letter "A." With less living space than many traditional home designs, A-frames are popular as vacation cottages or second homes. These houses typically offer extensive window spaces in the front and back, and limited maintenance because of the large roof.
Many A-frame houses offer one and a half levels of living space. If an upper level is constructed, the rooms must accommodate the sloping sides of the roof. Many A-frames are built with a loft-like sensibility, allowing for second-level space but keeping the central portion of the house open to highlight the triangular construction. Popular at lakes and seaside locales, many A-frame houses feature balconies on the loft level, to better take in views and provide additional living and entertaining space.
One of the advantages of an A-frame house is its durability in heavy snows. The sloped roof prevents snow from building up on top of the house, preventing roof damage and possible collapse. Citing the style's suitability for all climates, experts also tout the efficiency of an A-frame house in hot weather. Since the majority of the living space is on the lower level, heat will rise away from the floor, keeping the ground level cooler.
Another characteristic of an A-frame house is the frequent use of natural building materials such as stone and wood. They work well with American design traditions such as Arts and Crafts, but many are also furnished in keeping with Scandinavian or log cabin design. Unfortunately, as A-frames are popular near lakes and forests, builders must be mindful of potential fire danger. When building or purchasing an A-frame home, be certain that it complies with all local fire-safety laws, and consider using fire-proofed materials.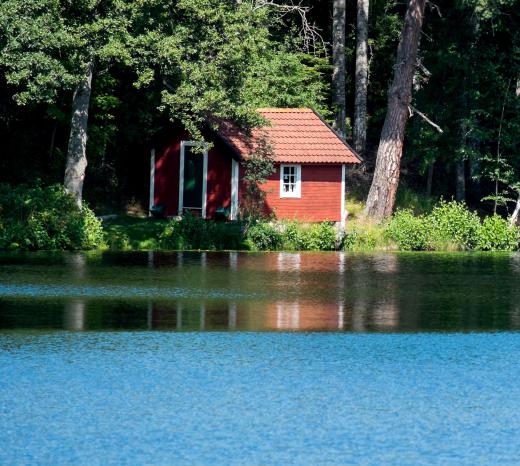 Although these homes can be charming and have many excellent features, they can provide some design challenges. As the roof may slope nearly to the ground, there is often very little wall space. What there is may be inconvenient for typical design elements such as paintings and artwork, leaving a considerable amount of blank, unusable space. Lack of privacy can also be a problem with loft-like designs, particularly if the house is meant to hold several families or groups.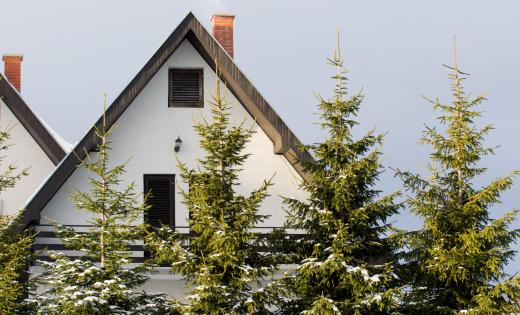 One popular method of building an A-frame house is to use a kit package. These house plans include detailed blueprints and instructions to build the home, and include quantities of building materials required. Some kits actually come with all building materials, including pre-cut wood to ensure proper construction. For a family of skilled or extremely determined carpenters, building an A-frame house can be a whole new way to spend a vacation.
AS FEATURED ON:
AS FEATURED ON:

By: Alexandr Blinov

An A-frame house being built.

By: rmwood1

Since A-frame houses are popular in forested areas, builders should be mindful of the potential for fire danger.

By: rolf_52

A-frames are popular vacation cottages.

By: Budimir Jevtic

Sloped roofs prevent snow from building up on top of a house, thus preventing roof collapse.