Should I Paint my Own House or Hire a Professional House Painter?
Nothing lasts forever, and that includes house paint. After a period of time, a combination of sunlight, moisture and exposure to the elements causes house paint to peel away from the exterior and become unsightly. As far as do-it-yourself repairs are concerned, house painting is not technically difficult for a homeowner to perform, but it can be time-consuming, messy and physically demanding. Hiring a professional house painter may seem like a viable alternative, and in many cases it is. But the services of a professional painter do not always come cheap, and finding a reliable one during the height of construction season is not always easy.
One thing a homeowner should consider when deciding between a do-it-yourself project and hiring a professional house painter is the size of the job. The old paint usually has to be scraped off before any new primer or paint can be put on the walls. This scraping and prepping step is not going to be pleasant, and the scrapers must be in good physical shape to reach some of the more obscure areas of the exterior. Homeowners accustomed to labor-intensive jobs may be able to tackle the scraping and prepping of an average sized home, especially with the help of a few teenage assistants. Anything larger than average may require the expertise of a professional painter and a seasoned crew.
There are also a few hidden costs associated with house painting that homeowners may not have considered. While the paint itself may be relatively inexpensive, all of the tools, sprayers, brushes and ladders may not be. By the time a homeowner purchases all of the additional equipment needed to paint a house, the cost may be even higher than hiring the services of a professional house painter. A homeowner may be able to rent a professional grade paint sprayer from a rental agency, however, for an affordable daily rate. Before hiring a professional painter, it may pay to visit a local home improvement store to see how challenging it is to use a modern spray painter or advanced painting techniques.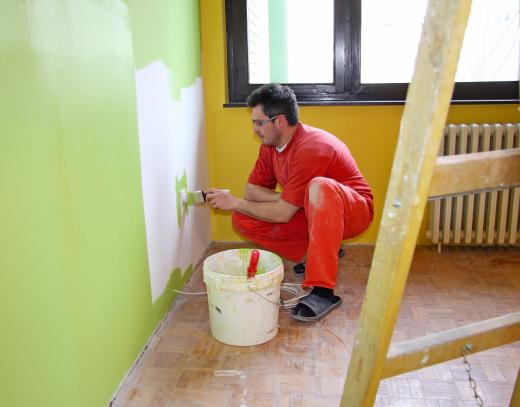 A professional house painter and crew does bring a level of expertise most homeowners do not possess. They will often mask off areas prone to receive over-spray, such as windows, exposed pipes and gardens. A professional house painter should also be able to complete the job in much less time than a "weekend warrior" homeowner and an amateur crew. If time is a consideration, a homeowner may be better off hiring a professional house painter instead of allowing a partially scraped house remain in limbo for several weeks.
A professional house painter may charge a significant fee per hour or job, but a homeowner should compare that fee to the expense and time requirements of a do-it-yourself project. If the house painter can complete the job within a few hours or days instead of weeks, then the cost may be acceptable. If the project is not overwhelming and the weather is cooperative, however, painting your own house can be a satisfying experience that provides a sense of ownership and responsibility. Just be sure to pick a color of paint you and your neighbors can live with for years to come.


By: beaucroft

A professional house painter should be able to complete a job in less time than the average homeowner.

By: Theresa Martinez

There are advantages and disadvantages to painting your own house.

By: Syda Productions

Professional house painters may be more convenient, since they carry out all the prep work in addition to painting.

By: branex

While the cost of paint may be low, the cost of tools and time spent painting add up quickly.