Acrylic is a manmade substance, similar in appearance and feel to wool. A plastic fiber made from acrylonitrile, acrylic became a substitute for wool in a number of carpets after the 1950s. The acrylic carpet had some advantages. It was less expensive than wool, resistant to mold and mildew, easy to dye in bright colors, fast drying, and fairly stain resistant.
Companies that first developed acrylic, like DuPont, quickly made profits on acrylic carpet. However certain characteristics of the carpet meant it didn't stay popular for long as a first choice fiber. The biggest complaint about acrylic carpet is that it tends to wear out quickly. So though it may be a less expensive fiber to use, it isn't the best when compared to some of the other manmade fibers used for carpets today. The main manufacturer of acrylic, DuPont, did cease manufacturing the fiber in 1991.
While you can find some acrylic carpet types on the market, sinking popularity tends to be due to one factor. The carpet simply will not hold up in high traffic areas. Since people often use carpet for rooms that are in high use, carpets made from acrylic are not a good first choice. Also though acrylic carpet may be ideally suited for things like bathrooms because it dries quickly and is resistant to molds, many people prefer to use the same type of carpet in most of their home.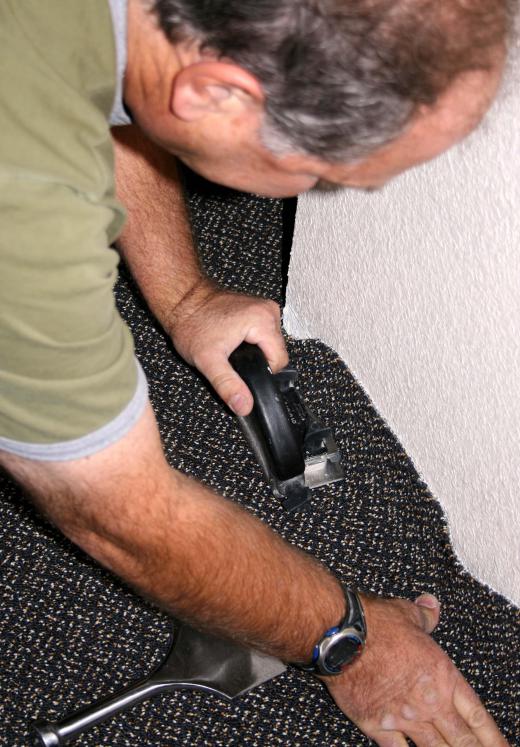 What you can find, for pretty low prices, is a variety of acrylic rugs, and these may be ideally suited and inexpensive for low traffic areas or places like the bathroom. With a look and feel similar to wool, they are usually a fraction of the price, and washable. Though high traffic areas may damage acrylic fibers, washing machines tend not to destroy or crush the shape of them, so small area rugs may be easy to keep clean, and fairly inexpensive to replace. A big expense in any type of carpeting is installation, but the advantage of area rugs is that you don't have to pay someone else to install them.
Also, if you'd like to carpet a room that gets little use, such as a spare bedroom, acrylic carpet may be a good choice. There are still acrylic carpets on the market. They do, however, represent a much smaller share of the total carpets produced.
AS FEATURED ON:
AS FEATURED ON:

By: fotoedgaras

Acrylic area rugs.

By: Greg Pickens

A big expense in any type of carpeting is installation.

By: johny87

Because it is not an organic material, acrylic carpet is resistant to mildew and other types of mold.