A rafter is a type of internal vertical beam that holds up a building's roof load, or weight from above, and constitutes a roof's framework. Combined with rigid exterior materials such as plywood and shingles, most of these beams are designed to bend slightly under the weight of external forces. This allows for the sloping of a roof and helps to resist the weight and gradual deterioration caused by extreme weather conditions, such as heavy rain and snow. Though generally made of wood, a rafter may consist of reinforced concrete or steel, depending on its roof load or other factors. A variety of types exist to allow for many architectural tasks.
Rafters are typically combined with small horizontal beams, called joists, to create a triangular unit known as a truss, or truss rafter. These structural units are usually composed of one or more triangular sections whose ends are connected at each end by nodes, or joints. The bending moment, or bending force, of a beam refers to the stress or bend caused by external weight loads and other forces. In a truss rafter, this weight is shifted to the unit's nodes, which should bear the stress and compression of a roof load or other weight factors.
When the weight of a roof or other external limitations become an issue, the truss design may allow for a heavier load without the concern of gravitational or external stress and compression. With this innovation, architects have taken its use beyond interior support. It sometimes aids in the construction of numerous structures, such as bridges and skyscrapers, for example.
The slope to which a roof is framed determines its pitch, or its degree of incline. In the framing of buildings, roofs may be given a relatively flat slope that ranges from 0.394 inch (1 cm) of rise per 5.906 inch (15 cm) of rafter length, to a steeper slope that measures greater than 0.787 inch (2 cm) per 0.394 inch (1 cm) of length. The varying degrees of slope may help some structures endure elements like heavy snow and ice without collapsing, while allowing buildings in other environments to have a low-lying roof line for architectural or aesthetic purposes.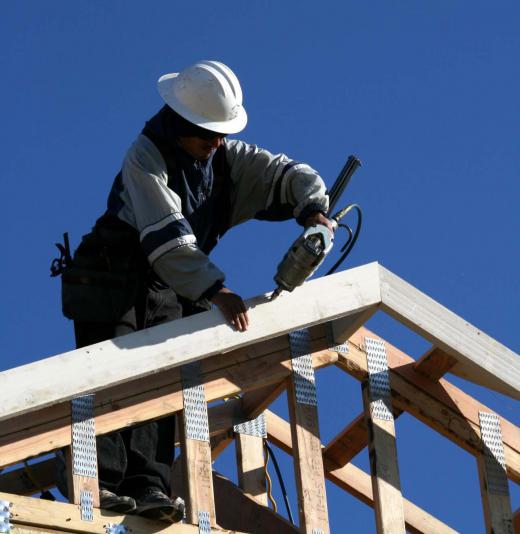 Some builders may opt to leave roof beams exposed. This practice helps to give smaller spaces the appearance of a larger area, and it can also give a more modern and natural look to the inside of a structure. Ceiling beams and joists can even become functional as a place to drape wall hangings and other decorative items.
AS FEATURED ON:
AS FEATURED ON:

By: Wendy Kaveney

Rafters are a type of vertical construction beam, that help to support a roof.

By: Cheryl Casey

Truss rafters are designed to be triangular, which allows them to support heavier loads.

By: Greg Pickens

Common rafters are tied together at the base by ceiling joists, which run parallel to the floor.