Fascia gutters provide an attractive and low-maintenance alternative to traditional round gutter designs. Like all gutter systems, fascia gutters capture rainwater as it runs off a roof, then transport the water to nearby downspouts. By controlling stormwater runoff in this manner, homeowners can protect their foundations and exterior walls from rot or damage.
On a standard residential roof, installers use a vertical panel to cover the ends of the roof rafters. This vertical panel, known as a fascia, connects to the soffit panel below the overhang to give the roof a clean, finished appearance. A gutter system can then be fastened to the fascia or soffit to collect rainwater.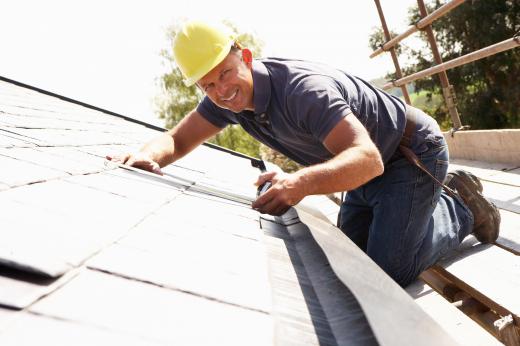 Fascia gutters work slightly differently. Instead of a basic round gutter shape, fascia gutters feature a deep rectangular profile. The front edge of the fascia gutter connects to the drip edge of the roof, allowing the roof to act as a natural guard for the gutter system. The smooth face of the gutter acts as a fascia, hiding the edge of the rafters from view and giving the home a neater look. Standing below the overhang, one can look up and see the exposed rafters that extend beyond the home's exterior walls. This gutter system eliminates the need for a soffit, though some homeowners may add some type of soffit panel to improve aesthetic appeal.
Buyers can choose from different sizes and styles of fascia gutters depending on the depth of the rafters. For example, a standard gutter profile will conceal the average roof framing, while deeper gutters may be needed to hide taller or more complex rafter designs. Because fascia gutters are so much deeper than round gutters, they can often hold more water, which improves drainage and helps extend the life of the home. The taller size of these units also results in a narrower profile, making gutters less noticeable.
Some builders believe that the narrow profile of fascia gutters can contribute to clogging. If leaves or other debris find their way into the gutter, they may become trapped within the narrow base. Once clogs occur, they may prevent water from reaching the drain pipe, which can lead to flooding and water damage. While the roof helps to protect these gutters from debris, similar to a gutter guard, it also makes access for cleaning more difficult. The gutter must be detached from the roof in order to remove debris and remedy clogs.
AS FEATURED ON:
AS FEATURED ON:

By: Monkey Business

On a standard residential roof, installers use a vertical panel called a fascia to cover the ends of the roof rafters.