The traditional hope chest is a wooden trunk or box that is used to store special articles of clothing and other household goods for a bride to use after her marriage. This tradition is thought to have evolved out of necessity. In medieval Europe, many marriages were arranged by parents in order to merge family fortunes. A wealthy prospective groom's family offered the bride's family money, land, or even business ownership in order to win her hand in marriage. In turn, the bride's family provided the new couple with everything they needed to start their lives together. This gift, which was called a dowry, included linens, china, silverware, glassware, kitchen items, and even furniture.
Families of limited means could not afford elaborate dowries, but wanted to be able to offer a prospective husband something of value for marrying their daughters. Traditionally, mothers taught their daughters at an early age how to knit, embroider, sew, and crochet in preparation for marriage. Young women, dreaming of their wedding day, started accumulating a collection of special items, including lingerie, hand-embroidered linens, towels, aprons, quilts, and other handicrafts, and storing them for the future in a special chest, which became a symbol of hope for the future. The new bride then brought her hope chest to her new home on her wedding day, and these items became part of her new household.
Early hope chests were handmade and often lined with cedar, a fragrant wood that has helps preserve fabric. Many fathers built their daughter's hope chests and spent hours decorating them with artwork, wooden mosaics, and other decorations. The chest was then passed on from mother to daughter, becoming a family heirloom.
The tradition continued in the US, but by the beginning of the 20th century, the hope chest had begun to lose popularity. However, during World War I, the Lane Company won a large government contract to build pine ammunition boxes for the military. The plant modernized its assembly processes, and when the war was over, they converted the plant for the production of cedar chests. At the same time, they began an advertising campaign to promote the new Lane Hope Chest, and young women were captivated once again by this romantic notion. During World War II, Lane's advertising was directed at young soldiers who, the company hoped, would be convinced to purchase a hope chest for the girls they left at home.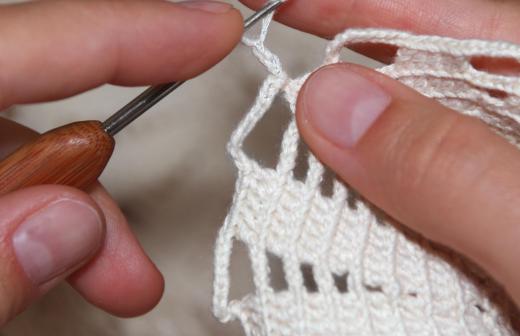 The tradition has since died out, but in recent years, there seems to have been a quiet revival of this custom. In her book, The Hope Chest: A Legacy of Love, Rebekah Wilson explores the history of these chests and promotes the value of passing on traditional crafts and homemaking skills to young women. Her book is a celebration of the bond formed between mother and daughter as they prepare for the daughter's wedding day together.
AS FEATURED ON:
AS FEATURED ON:

Hope chests often contain silverware.

By: kulikovan

Traditionally, hand crocheted items may be included in a hope chest.

By: Andres Rodriguez

Traditionally, many fathers would build their daughter's hope chests.

By: tr3gi

The wedding guestbook may be placed in the hope chest after the wedding.

By: spotmatikphoto

Hope chests can be passed from mother to daughter, becoming a family heirloom.

By: chonlawit

Sets of towels may be included in a hope chest.