What is a Flat Pack Wardrobe?
A flat pack wardrobe is an armoire which is sold, unassembled, in a flat box, and must be put together by its buyer. These unassembled wardrobes are available in a wide variety of styles, colors, materials, and sizes, and are often significantly less expensive and easier to transport than preassembled models. In return for these advantages, however, the buyer of a flat pack wardrobe must be willing to assemble the product herself, a process which can vary in difficulty depending on the quality of the wardrobe as well as its assembly instructions. Preparation can be key to assembling a flat pack wardrobe with minimal difficulty.
Instead of assembling a flat pack wardrobe, manufacturers provide buyers with a complete set of the product's parts. These parts are usually packaged in a long, narrow box, or flat pack. As minimal labor is required to produce flat pack products, they can cost significantly less than comparable preassembled products. Additionally, prior to assembly, many flat pack wardrobes can fit into the trunk or backseat of a car. This feature can make flat pack wardrobes a good choice for those who do not have access to a truck or other large vehicle, or who do not wish to pay for product delivery.
In return for its cost-effectiveness and portability, however, a flat pack wardrobe must be assembled by its buyer. This process can vary widely in difficulty, often depending on the quality of the wardrobe as well as its assembly instructions. Some products come with easy-to-follow instructions, and include all necessary hardware as well as basic assembly tools. Other models may include only a wardrobe's basic parts, such as its frame, drawers, and so forth, leaving the buyer to provide her own hardware and tools. Some buyers may find that the assembly instructions included with their wardrobe are vague, difficult to follow, or, in the case of imported products, printed only in a foreign language.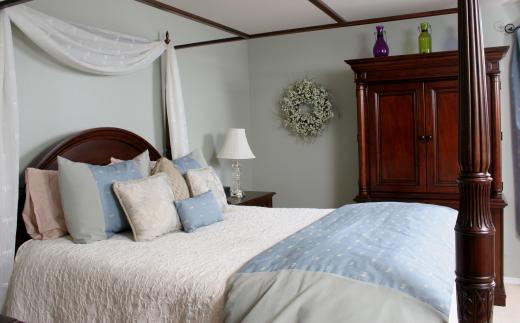 Adequate preparation can be key to simplifying the flat pack wardrobe assembly process. Prior to beginning assembly, the buyer should review the product's instructions thoroughly, ensuring that she understands each step. She should also unpack the product to check that all pieces listed on the instruction sheet are accounted for, and gather all necessary tools and hardware. Further, she should attempt to assemble the wardrobe near the spot where it will be placed so it does not need to be moved a significant distance once it has been put together. Finally, if the buyer does not feel confident about her furniture assembly skills, she might consider enlisting the help of a handy friend or loved one.
AS FEATURED ON:
AS FEATURED ON:

By: MAXFX

A flat pack wardrobe must be put together before use.

By: Lisa Turay

Flat pack wardrobes are generally not as ornate as traditional wardrobes.