What is a Fireplace Surround?
A fireplace surround is an architectural element which surrounds a fireplace, providing aesthetic and safety benefits. There are a number of different styles of fireplace surround which can fit in a range of design schemes, from modernist concrete designs to formal tiled ones. Many home improvement stores sell or can order fireplace surrounds, and it is also possible to install a custom version of a fireplace surround, or to modify an existing surround to change its look and feel.
From an aesthetic point of view, a plain metal, brick, or concrete fireplace is not very exciting, and it can look rather stark and bland. A fireplace surround can make the fireplace more visually interesting, so that it is engaging to look at whether or not a fire is present. Brick, tile, stone, and certain types of woods can all be used to make a surrounding element for a fireplace, and the surround can be decorated with paints, stains, carvings, and other ornamental features.
Safety-wise, a fireplace surround is also important. The surround can provide additional layers of fire protection, making the fireplace less dangerous. A brick or tile surround will retard escaping sparks, ensuring that they cannot penetrate the wall around the fireplace and cause a fire, and a built-in surround can provide additional fireproofing insulation around the fireplace, so that a fire will not start inside the wall. Due to safety concerns about fireplaces, many regional building codes specifically address fireplace surrounds and their design.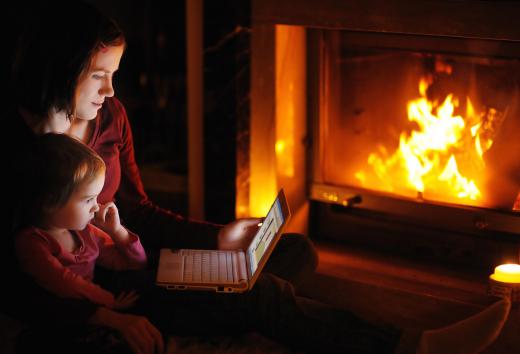 If a fireplace is being utilized for heating, the surround can increase efficiency. Using tiles, for example, will create more heat, as the tiles will absorb heat from the fire and radiate the heat later, after the fire has been allowed to go out. A roaring fire in the early evening can heat the tile or stone, and the house will be gently heated as the heat dissipates out after the fire is extinguished. The surround can also radiate heat while the fire is burning, and in combination with a small fan, it can help to spread heat around the room or house.
Manufactured surrounds can fit fireplaces of a standard size, allowing people to quickly and easily replace or install a new fireplace surround. Many companies also offer custom surrounds which will be made in accordance with measurements provided by clients. People who prefer to design their own can purchase the raw materials and construct a fireplace surround from scratch, as long as they read up on local building codes to confirm that their fireplace is in compliance.
AS FEATURED ON:
AS FEATURED ON:

By: stokkete

Carpenters can be hired to build custom fireplace surrounds.

By: MNStudio

A wooden fireplace surround can be crafted from many different woods.

By: gayel collinson

Fireplace screens can add to the safety and attractiveness of a fireplace.

By: nyul

Fireplace surrounds may be made of wood, but not of materials that can easily ignite.