What is a Fireplace Surround Kit?
A fireplace surround kit is a kit that allows homeowners, builders, or contractors to create a sort of frontispiece for a fireplace. The fireplace surround itself is a series of pieces that fit around the mouth of the fireplace. This kit may just include materials to cover the front of the fireplace or it may also include materials for a mantle that will surround the mouth and face of the fireplace. The pieces may be made out of wood, stone, or even cast iron. In order to purchase a fireplace surround kit for installation, it is necessary to first take detailed measurements of the fireplace that will be fitted with the surround. Depending on the policies and services of the company that sells the kit, it may be possible to hire a professional from the company to install the fireplace surround.
In order to install a fireplace surround kit, it is necessary to have a few basic tools. It is also common for people installing these kits to have to purchase some simple building materials in order to complete the project. The tools that are usually required to install a fireplace surround kit include a tape measure, a hammer, a Phillips head screw driver, and a power drill. The building materials that must be purchased in addition to the materials that come in the fireplace surround kit may include lumber nails, finishing nails, and mounting board.
There are a number of companies that sell these kinds of kits and there are various kind of materials that are used to make up fireplace surrounds. Some of the most common materials include wood, marble, slate, limestone, and cast stone. Some companies also use more unusual materials that can be installed in order to create a unique look. There are some fireplace surround kits, for example, that are made out of timber. These sorts of kits create a very rustic look around the fireplace.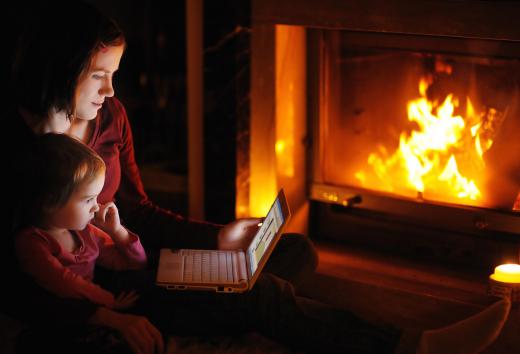 A fireplace surround kit may or may not be standard in size. Many fireplaces are built according to standards in fireplace sizing. There are others, however, that are unique in their size or shape. This may be due to the preferences of the person or team that designed the house. It may also simply be the result of the fireplace being quite old, having been built before sizing standards were common for fireplaces.
AS FEATURED ON:
AS FEATURED ON:

By: dambuster

Fireplace kits can include materials to surround the face and mouth of the fire.

By: MNStudio

A rustic wood fireplace surround may be a good choice for a mountain cabin.

By: donatas1205

A hammer is usually needed to install a fireplace surround kit.

By: nyul

Fireplace surrounds may be made of wood, but not of materials that can easily ignite.