A darning egg is a tool used in knitting and darning, a related needlecraft which involves fixing areas of wear and tear on garments. The darning egg is most closely associated with socks, since it makes darning socks much easier, but it can be used for other projects as well. Many knitting and sewing supply stores sell darning eggs, which can be purchased in an array of sizes.
The classic darning egg is an ovoid piece of stone, metal, ceramic, or wood. Many darning eggs also have a handle attached, to make it easier to work with the darning egg. The majority of darning eggs are made from wood, since it is easy to shape and work with. The smooth surface of the darning egg will not be easily scratched by a darning needle, and it keeps the textile stretched over it smooth and even.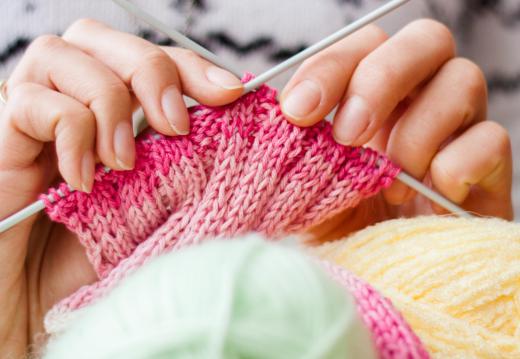 Darning can be used to repair both knits and weaves. When darning basic wear and tear, a darning needle and thread are used to join the intact areas of the textile and to create a bridge of new material. After the darning is finished, a patch of darned fabric will have been made in the hole or tear which needed repair. There are a number of different darning stitches, many of which are designed to blend in with the existing material so that the site of the repair is not as obvious. Socks are commonly darned because holes appear in the heels and toes with regular wear.
As a mending tool, a darning egg is extremely useful. A darning egg holds the textile being darned firmly, so that the darner can focus on making even, tight stitches. It can also be used at the end of a knitting project to firm up and even out tension. For socks especially, finishing with a darning egg can ensure that the stitches at the very end of the toe are tight and even, blending in with the rest of the knitted sock.
Many people in industrialized nations do not engage in mending, especially for clothing items such as socks. They believe that darning a pair of socks would take more time than picking up a new pair would. However, darning does save money in the long term, by prolonging the life of socks and other clothing. In addition, darning can be used to save a favorite sock, sweater, or similar garment. For some socks, replacement is challenging, and darning the socks helps to delay the inevitable.
AS FEATURED ON:
AS FEATURED ON:

By: apelavi

A darning egg can be used to adjust the tension of stitches in knitting.