What Are the Effects of Hard Water on Pipes?
Hard water contains a significant amount of dissolved minerals. One of these minerals, calcium, can leach out and form a substance called lime scale. The main effect of hard water on pipes is a buildup of lime scale inside, causing decreased water availability or even pipe blockages. In some cases, the dissolved minerals can eat through pipes, creating small holes that cause leaks and water damage.
The most common effect of hard water on pipes — decreased water availability — is most noticeable at faucets and showerheads. Over time, the constant buildup of lime scale within the pipe allows less and less water to pass through. Faucets may eventually deliver only a weak stream of water. Showerheads may dribble instead of spray. The lime scale may also build up within the faucet itself, interfering with the shutoff mechanism and causing the faucet to drip constantly.
Another way that hard water affects pipes is complete pipe blockage. The lime scale builds up until it forms a solid plug, preventing the passage of any water. Lime scale forms more rapidly in warm or hot water, so pipe blockages are more prone to occur in pipes leading from hot water appliances. The warm water temperature inside hot water heaters accelerates the formation of lime scale, and hot water heaters are especially prone to a buildup of lime scale. It may also coat the hot water heater elements, rendering them less effective and causing the heater to use more energy to heat the water.
Often, the effects of hard water on pipes are not noticeable, and home owners are unaware of problems until there is substantial damage. The minerals in hard water can erode metal pipes, eventually leading to serious pipe damage and even holes. Damaged plumbing pipes may become weak and subject to failure. Holes in the pipes may be small, but they can develop behind walls and other inaccessible areas. The constant leaking of water from the small holes can continue for some time until the home owner becomes aware of the problem.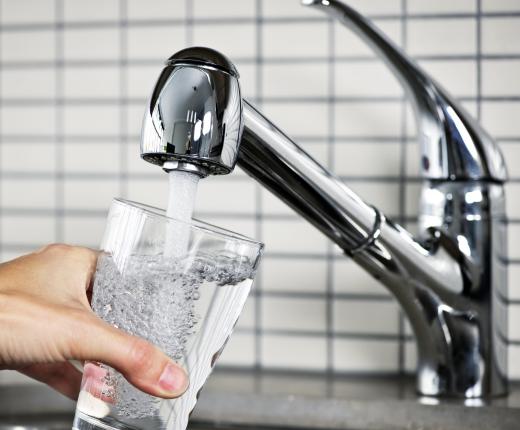 There are several types of home appliances that treat hard water. The effects of hard water on pipes can be minimized by installing one of these devices to treat the water before it enters the home plumbing system. Water softeners and reverse osmosis systems are effective at removing dissolved calcium from hard water.
AS FEATURED ON:
AS FEATURED ON:

By: Juri Samsonov

Decreased water availability is the most common effect of hard water on pipes.

By: lightwavemedia

Hard water can eat through pipes and lead to leaks.

By: Elenathewise

Hard water is tap water that has a high concentration of minerals.

By: ra3rn

Hard water can cause holes to form in pipes that are behind walls and other inaccessible areas.

By: sima

Limescale buildup could cause enough problems that a homeowner replaces his or her affected plumbing fixtures.