What are the Different Types of Wrought Iron Light Fixtures?
Wrought iron light fixtures often evoke images of medieval castles with their rustic chandeliers and lantern candelabras. Yet this type of lighting is not only found in palaces, but is often a popular choice for lighting design in the home. There are pendant-style lights that feature classic iron scrollwork that can be used to light an entryway or dining room. For more modern settings, there are wrought iron light fixtures that offer diffused sconce lighting for a hallway and standard table lamps in the living room. Wrought iron lighting design, such as the popular porch lantern and matching front door sconces, can also be found in outdoor settings.
Some wrought iron chandeliers integrate both crystal and detailed iron scrollwork into these oversized lights. This kind of old-world lighting is often used to illuminate large rooms with wrought iron light fixtures that feature hundreds of bulbs. These chandeliers may be designed in tiers that gradually descend to a dramatic teardrop of crystal. To provide more atmosphere than light, there are also antique chandeliers that merely function as candle holders.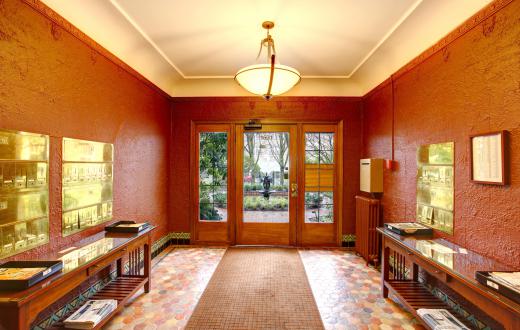 There are some unusual wrought iron light fixtures too, like a chandelier designed in the shape of a spider, featuring eight spindly legs of flood lights. Another one-of-a-kind light fixture is an outdoor scene with geese landing in a marsh of light. For accent lighting, there are smaller sconce fixtures that have an artistic rendering of twigs as a background for frosted glass lights. In a kitchen or bar area, a fixture that combines a log and wrought iron suspended from the ceiling offers five bulbs to fully light up a preparation area.
Of course, wrought iron light fixtures also come in traditional table or floor lamps. These lights can be small goose neck lamps for bedside reading or much larger floor lamps with intricate scrollwork surrounding delicate, hand blown glass shades. This kind of old-world lighting tends to be a popular choice when designing lighting for a home, especially in a room furnished with antiques.
Wrought iron light fixtures can be found shedding light on rocking chair porches with pendant style lighting. Some fixtures are used to light up an entry with basket lanterns that create a checked pattern of light on both sides of the door. Wrought iron lanterns may also be used to illuminate a front yard or driveway area.
AS FEATURED ON:
AS FEATURED ON:

By: Iriana Shiyan

An iron chandelier is usually used as lighting in a dining area, but may be featured as an accent in a large hallway.