What are the Different Types of Wall Lights?
There are several different types of wall lights available, including recessed, track, and wall lamps, to complement any home or room decor. Wall lighting is ideal for providing light while saving floor space traditionally used by floor or table lamps. Exterior wall lighting is very popular as well, and is often installed above garage doors, front doors, and along pathways in the yard. The various lighting units offer a wide range of looks for enhancing the appearance of a room or area while providing sufficient light for daily activities. Consumers can find these fixtures at home improvement stores or local specialty shops.
One of the most popular types of wall lights are recessed units that may be mounted under kitchen or bathroom cabinets, cupboards, and medicine cabinets. Some homeowners also choose to install these lights under work cupboards in the basement or garage for convenient lighting while working on projects and chores. In the home, these units offer soft, understated lighting, and can feature adjustable switches to modify the intensity of the light. With recessed lighting, the actual unit is usually hidden and placed out of the way.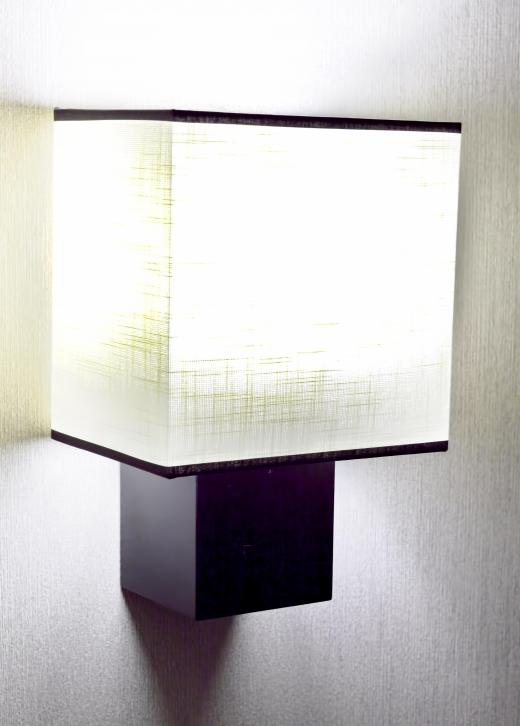 Track wall lights are mounted to the walls of a room for increased light and visual appeal. These lighting units are offered in a wide range of styles and sizes, and fit easily into any decor and color theme. Consumers can find a wide range of options in stores and catalogs, though it is becoming increasingly popular to have track lighting custom made. These wall lights can be used to highlight wall art or as art work themselves, and are often used in modern style interior design. Like other types of interior lighting, it is possible to install adjustable track lighting if desired.
Wall lamps are available in an assortment of styles and materials for use in the home, exterior of the house, and in workshops or garages. They are made in simple, industrial designs, as well as ornate, decorative styles at home in any interior setting. The most common type of wall lamps are sconces, often designed to mimic the appearance of old-fashioned candle wall sconces, though there are more modern designs to choose from as well. Traditional wall lamps are typically small lamps attached to a mounting plate with a curved metal rod and plate, and have wiring to connect to the building's existing electrical wiring. Many people choose to have these types of wall lights installed professionally for convenience and safety.
AS FEATURED ON:
AS FEATURED ON:

By: Vitas

Wall lamps are secured to a wall to provide illumination, and come in many styles.

By: Yoanna Boyadzhieva

Dimming switches can be used to control the intensity of wall lights.