What are the Different Types of Vanity Furniture?
The various types of vanity furniture range from children's vanity pieces to furniture for adults. Some of these pieces are meant to be used in the bedroom, while others can be used in a powder room, bathroom, or hallway entrance. Antique vanity furniture is one of the available styles, as is modern vanity furniture.
Vanity furniture may be versatile, as well as being practical and decorative. Some vanity furniture may be available in sets. This may include a vanity bench or chair and a vanity table. A popular material used for many types of vanity furniture is wood. This might include oak, maple, or walnut.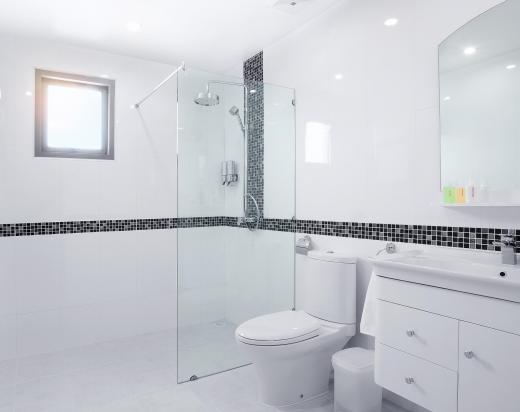 Often, vanity furniture may be painted or finished in various colors. A natural wood design is another option. Some vanity make up tables for adults may also be equipped with a matching mirror as part of the set. The table set may feature embroidery designs on the seat.
Some vanity sets have a special area or hidden drawer for storage. This is typically made to store make up brushes, cosmetics, and small pieces of jewelry. Often, the more elaborate vanity sets will feature lighting or a lighted make up mirror. Other types of vanity furniture used in the bedroom may include a corner vanity table and stool.
Some furniture makers offer a vanity tower designed for teenage girls. Vanity towers typically have drawers for jewelry and accessories. The tower is often made with double door enclosures. Some sets feature a tower on either side of the vanity table.
Fantasy or fairytale themed designs are popular in vanity furniture made for children. Some of the more expensive furniture may be constructed of durable wood, while play sets may be made from heavy-duty plastic. Mirrors for young children are typically made from some type of shatter-resistant plastic.
Bathroom vanity furniture may feature marble-top designs. Some are also made with granite. Wall-mounted bathroom vanities typically feature a faucet and sink with a storage area underneath. Other bathroom vanities are made with mesh or metal. These are generally used for storing bathroom items, such as towels and washcloths.
To match a home's decor or theme, vanities for the bathroom may be styled in contemporary or country designs. The cottage style vanity furniture may be painted in white or tan, or in a natural wood finish. Some have double-door cabinets. Wrought-iron vanity pieces are popular as well.
AS FEATURED ON:
AS FEATURED ON:

By: Dmitry Ersler

Wall-mounted bathroom vanities typically feature a faucet and sink with a storage area underneath.