What are the Different Types of Outdoor Carpet?
Outdoor carpet is sold in different types. The pile, backing and grade of carpet required for an outside space depends on what the outdoor carpeting is going to be used for and what type of problem it's needed to solve. For example, in areas where moisture could be a problem, marine outdoor carpet is often installed.
Marine outdoor carpet is usually made with an olefin top layer and a rubber backing. The backing on marine carpets is designed to keep water in rather that allowing it to leak out onto flooring. Marine carpet is named for its primary use on boats and boat trailers, but indoor-outdoor marine carpeting can also be installed indoors such as in basements where moisture is a problem. Marine carpet is also practical in garages, on patios and around swimming pools. It's available in subtle patterns or in plain colors such as darker shades of blue, green and red as well as gold, grays and browns.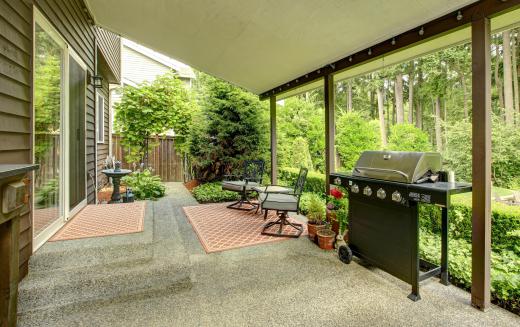 Olefin is a synthetic resin material that is also called polypropylene. Olefin is known for its toughness and properties such as being stain, dirt, fade and mold-resistant as well as fast-drying. Popular for use in residential, marine and industrial outdoor carpet applications, olefin carpeting may be of a cut and loop or a pile type. Cut and loop carpet features the carpeting fibers placed as loops that are sealed with a coating on the backing to hold the shapes of the loops. Pile carpet is created the same way as the cut and loop method, but the top is shaved off so that only straight, non-looped fibers remain.
Grass carpet has green or neutral tuft-like fibers made to look like a grassy lawn. This type of outdoor carpet is usually fade-resistant as well as stain-resistant and is available in different grades. Lower-grade grass outdoor carpeting is usually suitable for covered outdoor places, while higher-quality grass carpets are made to stand up to uncovered outside areas. Grass outdoor carpet is popular for use on home backyard golf courses as well as on patios and in sheds.
Unlike marine outdoor carpeting that is usually cut to fit and then glued down with marine carpet glue, grass outdoor carpet is available in tiles with a peel and stick backing. However, these tiles may not have marine backing, so they aren't recommended for damp or exposed outside areas. High-quality types of grass outdoor carpeting with marine backing are recommended if the carpet is needed for uncovered areas outdoors or damp areas indoors.
AS FEATURED ON:
AS FEATURED ON:

By: Iriana Shiyan

Marine outdoor carpet can be a good choice in areas where there is a great deal of water and moisture.

By: Wollwerth Imagery

Indoor/outdoor carpet may be featured in a sun room.