What are the Different Types of Orchid Pot?
In addition to light, water, and potting mix, orchids need the right type of pot to thrive. There are three basic types of orchid pots: terracotta, plastic, and baskets. The type of orchid pot chosen depends most on the type of orchid that will be planted, but also on whether the orchid will be kept outside or indoors.
An orchid pot may be tall and narrow or short and wide, depending on the type of orchid being grown. For example, terrestrial orchids, such as Calopogon, need tall pots because their roots grow straight down, sometimes as much as 3 feet (about 1 m). Jewel orchids, such as Anoectochilus, spread horizontally and do not sport long vertical roots, so they need wide pots or planters.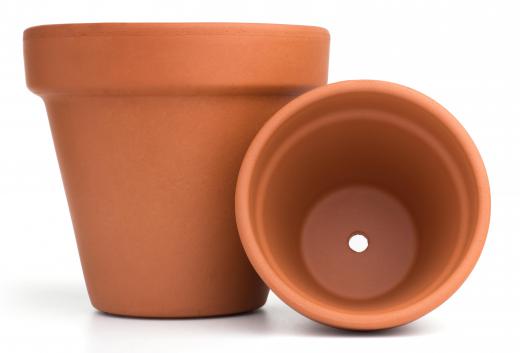 If the orchid will be kept outside, terracotta, or clay, pots typically are best to use. They are more stable than their plastic counterparts, mostly because they are heavier, and so are less likely to tip over in the wind. They normally come with only a single drainage hole in the bottom, though a few have additional side holes. A clay orchid pot, however, will allow the soil to dry out faster than a plastic pot because of clay's porous surface. Drought-tolerant orchids do best in this type of pot.
Plastic pots are light weight, so they are best for orchids that will be kept indoors. They almost always come with multiple drainage holes and additional holes can be easily made by hand if needed. Another advantage to plastic orchid pots is the soil dries out more slowly than it does with terracotta or basket pots. This feature makes plastic pots good for orchids that are not drought resistant. Another option for plastic pots is polythene pots, which are clear and allow the orchids' roots to get sunlight as well.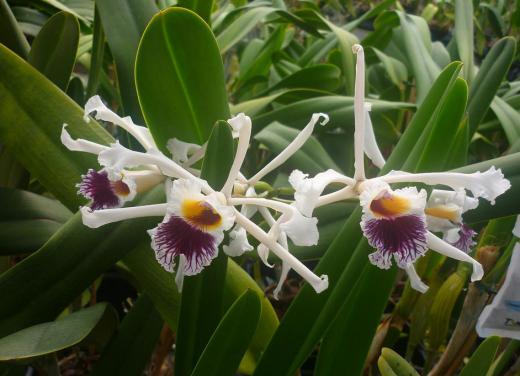 Basket pots are made of plastic, mesh, wood or pottery wire. The advantage of a basket orchid pot is that it allows sunlight and air to all parts of the plant, including the roots. A basket pot, however, will allow the soil to dry out extremely quickly, so special care needs to be taken to keep the orchids properly hydrated.
When in a basket, orchids will need to be tied to support blocks that are placed inside the basket. The baskets themselves are usually hung from a post at about eye level. Orchids that need a lot of sunlight directly on their roots do best in baskets. Pendant orchids, such as Acineta, are particularly suited for these pots.
AS FEATURED ON:
AS FEATURED ON:

By: Sergey Skleznev

One type of orchid pot is a terracotta pot.

Terracotta, plastic and basket pots are commonly used for orchids.

The Laelia is a member of the orchid family.