How Do I Choose the Best Orchid Vase?
Properly showcasing cut orchids or a potted orchid takes a special container. There are many types of vases available for use with cut orchids, including glass — both clear and colored — bamboo and ceramic vases in assorted heights and widths. For potted orchids, the American Orchid Society (AOS) recommends an Asian container that is deep and narrow for the best blooms. Finding a vase with a weighted bottom — or one that can have weight added — is important for tall and thin but often heavy cut orchids.
For cut orchids, the vase can be short and round, of medium height and tapered, or tall and skinny. The biggest factor to consider when choosing the best orchid vase is the flower's top-heavy nature. No matter what type of vase you prefer, the best orchid vase will need to be weighted on the bottom. Some orchid vases feature a weighted bottom, but decorative pebbles, rocks or bark also are common items used in the bottom of an orchid vase to stabilize the container.
Glass orchid vases come in all shapes and sizes. Vintage glass vases have a special charm that complements the modern appeal of an orchid. You can look in antique shops for Old World glassware, bud vases and candle holders that make creative vessels. If you're looking for a centerpiece orchid vase, the vintage glass vase can showcase the delicate flowers and spark a conversation with dinner guests.
Colored glass vases can add an extra layer of drama to an orchid arrangement. A romantic and modern style can be reflected with a red, textured glass vase containing a few white orchids. For a soft and cool mood, go with a recycled glass vase and blue or purple orchids.
Other types of decorative vases perfect for cut orchids can be found just about anywhere vases are sold. A traditional glazed clay pot can be a fitting orchid vase for a casual or rustic decor. For an exceptional orchid vase, check with local artists and online flower shops that work with orchids. You may find a custom piece of artwork just perfect for your home or office.
For rooted orchids, the AOS has documented some specific reasons why an Asian orchid vase should be used, especially for miniature cymbidiums. The reasons are based on years of experience cultivating strong and healthy orchid plants. The deep-growing roots of cymbidiums are long, strong and best suited for an equally deep pot. Orchids will grow according to the container in which they are planted, so a wide container will encourage lateral growth and a narrow container will promote vertical growth. The latter is recommended for optimal blooms.
How to Display Orchids in a Vase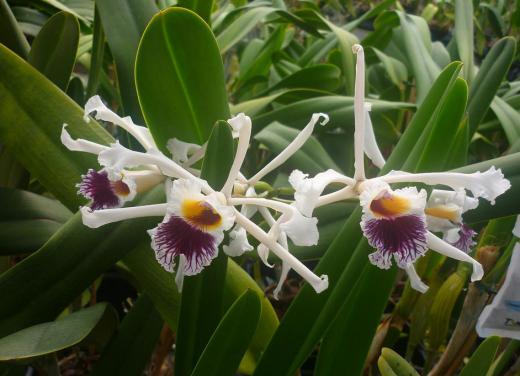 Orchids are a great option for rounding out your room's look and feel. Flowers in general can add brightness and life to a space, but orchids in particular have unique class and taste. Working out how exactly you'll display them involves several considerations.
Visibility 
First, think about visibility. How prominent do you want your orchids to be? This is will decide whether they should be displayed in a more public living space or a more private space, such as a bedroom or half-bath. The furniture and decor immediately surrounding them will also affect how visible they will be in the grand scheme of the room you place them in.
Light Sources 
Lighting is a critical aspect of taking care of plants, so understanding how much light an orchid needs is key. Orchids typically need a good deal of light (at least twelve hours per day). However, direct light can cause too much heat for them, so keeping them in indirect (but consistent) light is best.
Color and Shape 
Considering the color and shape of the orchids themselves as well as the furniture and features around them can help guide you to the best placement for them. For example, you might like the idea of putting them in a certain corner that doesn't have any other three-dimensional feature, but if there's a wallpaper or other design that is particularly busy (or uniquely colored), it may not end up being the best spot for your orchids.
Air Flow 
If you decide to display your orchids in a room that is often closed, be aware of whether there is enough air movement in that space to keep your orchids healthy. Just be careful, as too much of a draft may cause the temperature to lower too much.
How to Choose the Right Orchids 
Picking the right orchids can be tricky, especially because they can vary so much in their overall appearance and style. There are several important things to pay attention to in your hunt for the right orchids.
Stage of Life 
Try not to pick orchids that are already in full bloom. Give yourself the full enjoyment of watching your orchids bloom over several weeks.
Quality and Health 
You should also consider health of the plants you are considering. The roots of the flower should be green, and there shouldn't be any holes or unusually brown sections of the flower.
Appearance 
Finally, you'll obviously need to choose orchids that have the color and shape that best complements your space. A more minimalist and contemporary style might call for a simple, white orchid, for example. Or if you have a more traditional style in your home, there are plenty of colors and patterns that will go nicely with the rest of your aesthetic.
How to Care for Orchid in Glass Vase 
Caring for your orchids takes some intentionality, but it isn't too difficult to get in the habit of providing them what they need.
Plenty of Light 
Be sure to give your orchids plenty of light but not too much heat. Therefore, as noted earlier, you should try to set them up where they aren't in direct sunlight (unless the room they are in is particularly cold or you know for some other reason that the sun won't burn them).
Lots of Humidity 
Orchids also need a lot of humidity. If you aren't in a humid climate, that's okay; you can always put your orchids in a container that has little stones and water in it, making sure that the stones are higher than the water level.
Water 
Watering your orchids about once a week is important, using water at room temperature and being careful not to wet the top of the plant (which can cause rotting issues). Also, the pot you have your orchids in should be able to drain excess water out of it.
How to Keep Orchids Alive in a Vase 
Keeping your orchids alive isn't always easy, but it's worth it. In order to help protect your orchids, here are some things to avoid in caring for them:
Letting your orchids sit in excess water 
Watering them too often 
Keeping them in a dark area 
Keeping them by air conditioning vents 
Exposing them to harmful chemicals 
Planting them in normal potting soil 
With the right care, your orchids will bloom well and be able to provide your space with the comfort and joy you bought them for in the first place.
AS FEATURED ON:
AS FEATURED ON:

A vintage glass vase may work best for a centerpiece orchid vase.

By: Monkey Business

Florists usually have various shapes and sizes of vases that can be used to arrange orchids.

Vases for orchids should typically be weighted at the bottom, because the plants tend to be top-heavy.

The Laelia is a member of the orchid family that blooms in the spring and autumn.