What Are the Different Types of Hallway Lights?
Some commonly used types of hallway lights are recessed, track, and sconce lights. Recessed lighting is sometimes placed in the ceiling of a hallway, making it appear as if focused or diffused light is shining through a hole. Another type of hallway lighting is called track lighting, which is often used when recessed lighting is not an option. This type of lighting can simplify wiring for multiple lights attached to a track. Finally, sconces are sometimes reminiscent of torch holders and usually attach to walls at a height similar to free-standing lights.
Recessed lighting is a light fixture in a small hole, normally in the ceiling, and can have either a narrow focus or a broad dispersion. One advantage to recessed lighting is that it can be focused at a specific angle, allowing environmental ambiance. These hallway lights might be too difficult for a homeowner to install by him or herself because it usually involves creating a hole in the ceiling. It is normally recommended that a homeowner hire a professional if he or she wants recessed lighting in a hallway.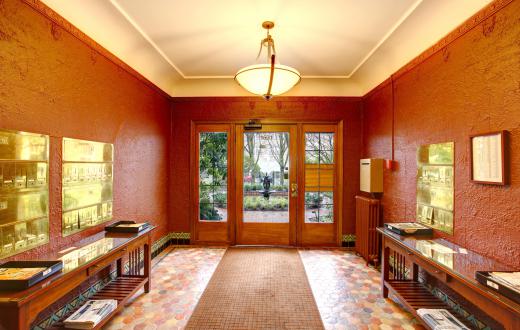 Track lights are a type of hallway lighting that involves placing a piece of track hardware on a ceiling or wall and wiring it to an electrical source. After a track is installed, individual fixtures can be attached to different sections of the track. Sometimes homeowners install track lighting instead of recessed lighting when they come to the conclusion that the recessed lighting installation is too complicated or expensive. Another reason why homeowners opt to install these hallway lights is because they simplify wiring for multiple lights.
Sconces are among the most popular hallway lights, and they are generally torch-like lights attached to a wall. They predate electric lights and are often fashioned with an upward design reminiscent of candle holders. Sconce lights are often placed partway up a hallway wall so that the lighting is at approximately eye level. The stylistic choices with this category of wall sconces are plentiful. While a significant portion of wall sconces have an upward design reminiscent of a medieval torch, others have an abstract appearance.
The important of safety during a light installation must be emphasized. Although do-it-yourself projects can be fun and educational, it is highly recommended to hire a licensed electrician when replacing lights. Even if a homeowner is experienced in electrical wiring, following the instructions and having an expert look over the wiring will help ensure against mistakes.
AS FEATURED ON:
AS FEATURED ON:

By: Iriana Shiyan

Many hallways utilize natural light.