What Are the Different Types of Foyer Tables?
A foyer is the room or space at the entrance of a home. Also known as an entry hall or entryway, foyers are often used to make a design statement by being dramatic. Foyer tables are furniture pieces placed in entryways to hold often used items such as keys, cell phones, or mail. The different types of tables for a foyer include hall tables, console tables, accent tables, and desk style tables.
Traditional entryways are relatively narrow, which requires the table to be slim in design. There are several options to consider when shopping for foyer tables. They are available in a large variety of styles, finishes, and prices.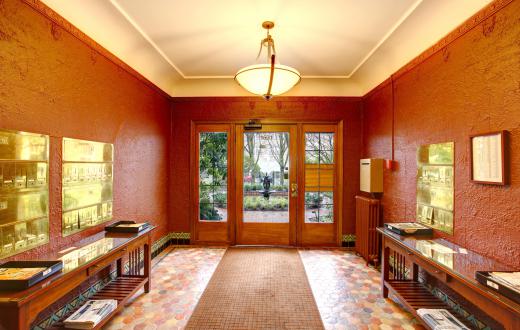 In contemporary homes, glass or wrought iron tables are often found in entryways. Rustic or country style homes often feature oak or pine stained pieces. Traditional homes typically include cherry, mahogany or walnut pieces and may be either new or antiques.
Half moon or semi-circular tables are popular with all sorts of decor styles. The side that faces the wall is flat and the facing edge is curved. This style helps reduce the amount of space foyer tables take while still providing a small space to display art or photographs. Many homeowners display a mirror or piece of artwork as a focal point above the half moon table instead of placing items on the table's surface.
Console or sofa style foyer tables are taller than semi-circular tables and are rectangular. There may be a bottom shelf for storing baskets or books. Console tables often include a shallow drawer for storing small items such as spare keys or mail. Desk style foyer tables are also rectangular and include drawers for storage. Some desk styles have a pull-out tray for writing that can be pushed in and hidden when not in use.
Foyer tables can perform different functions. For example, if the homeowner usually enters from a back door or through a kitchen, foyer tables do not need to have a mail repository and can instead be used primarily for displaying art objects. If the main daily entrance is through the foyer, then foyer tables can have drawers to hold discarded items.
AS FEATURED ON:
AS FEATURED ON:

By: Iriana Shiyan

Foyer tables are furniture pieces placed in entryways to hold often used items such as keys, cell phones, or mail.