What Are the Different Types of Foyer Flooring?
Ideas for flooring in a foyer include tile, laminate, hard wood, vinyl and carpet. Foyer flooring can be a big challenge for home and building owners because it is one of the most highly-trafficked areas. No matter what product is chosen, the owner typically wants to find a way to maximize durability, yet still provide an aesthetically-pleasing entryway. Depending on the priorities, traffic, and the budget, some of the choices for entryway flooring may work better than others.
Generally, a product that is not porous and easier to clean is a good choice for foyer flooring. This is why carpet often is not the best choice. Carpet tends to wear out faster in high traffic areas and can also be harder to keep clean, especially if people are entering directly from the outside. Those choosing carpet may opt for a carpet especially suited for high traffic areas that is stain resistant or darker in color.
Tile is one of the more popular choices for foyer flooring. Tile offers durability and value, but is also easy to clean. Generally, the larger the tile, the less expensive it is to cover the total area. Most tiles in foyers are at least 12 square inches (approximately 30.5 cm squared). This allows for easier cleaning, and gives it a different appearance from smaller tiles commonly seen in bathrooms.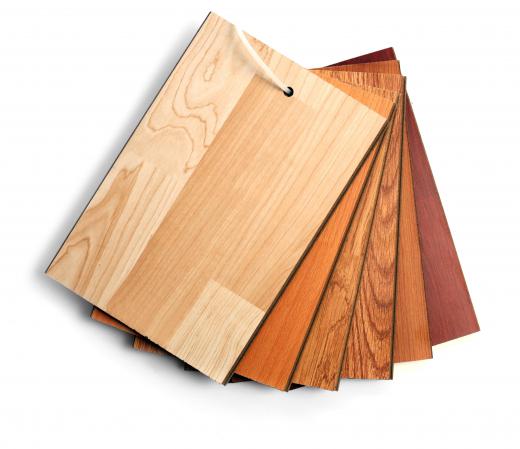 Although not always used specifically for foyers, hard wood also is an option. Much like tile, hard wood offers durability and is easy to clean. Often, its price is comparable to tile, depending on the quality of the wood and tile being considered. Wood, if it is damaged, may be harder to replace than damaged tile, which could be a consideration if heavier equipment is often brought in using a foyer.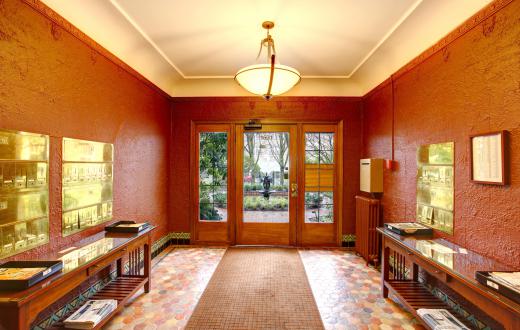 Another popular choice for foyer flooring, and generally less expensive than the other options, is laminate. This product is generally meant to have the look of hard wood, but at a much cheaper price. Laminate floors tend to last less than half the time of hard wood and may not withstand moisture very well. That could make them a poor choice in areas where foyer floors may get wet.
Vinyl flooring could be a good choice for floors as well. Vinyl floors could be made to look like many hard wood or tile products, but cannot completely mimic the look of those other products. Therefore, those choosing vinyl for foyer flooring are typically doing so mainly for economic reasons. It is one of the cheapest options on the market. Vinyl flooring can damage easily, but damaged spots are easy and inexpensive to repair.
AS FEATURED ON:
AS FEATURED ON:

By: aberenyi

Hardwood flooring adds a touch of elegance to a foyer.

By: Konstantin Sutyagin

Laminate flooring is an inexpensive, yet less durable, alternative to hardwood flooring.

By: Iriana Shiyan

Generally, a product that is not porous and easier to clean is a good choice for foyer flooring.