What are the Different Types of Flower Pots?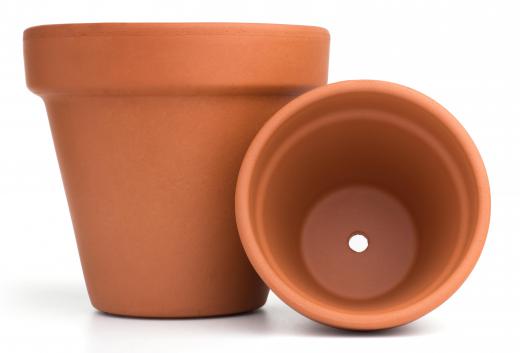 Flower pots, those containers gracing the windowsill or deck, serve several functions and come in a wide variety of styles. Strictly speaking, they are 'plant pots', and most potted plants are of the non-flowering kind. Yet when shopping for a plant container, one never looks for a plant pot, always a flower pot.
These pots have come into use for the simple reason that they allow you to grow plants that are to some degree mobile. That is, plantings in the ground can't easily be moved to a sunnier spot for a few hours, or brought indoors when it gets cold. Plants in pots, however, can be repositioned at will. Heavier plants such as small trees can be planted in pots that sit on a dolly with wheels for ease of relocation.
Flower pots, therefore, are mainly used to make plants mobile. One special case of flower pot is the 'starter pot' or 'peat pot', a small container made of peat moss. Seedlings are sprouted in these pots and, when they are ready to be put in a more permanent home, the entire pot can be planted and the peat will crumble and become one with the soil. This lessens or eliminates 'transplant shock', always a concern when transferring plants from one container to another.
The most common type of flower pots are simple terracotta pots. These come with a suitably sized saucer that they sit within, and the pots themselves have a hole in the bottom for drainage. In elaborate pots with oriental motif glazing, you will often find the plant itself sits in a terracotta pot inserted into the larger, more decorative container.
Windowsill plantings are made easier with the 'window box', a rectangular box affixed to the outside of the window ledge. Flower pots with plants can be placed in the window box, or you can fill it with soil and plant your herbs or flowers directly in the box. Using pots inside the window box makes it much easier to tend individual plants, however.


By: Sergey Skleznev

Some flower pots are made from terracotta clay.

By: Theresa Martinez

Window boxes are sometimes used to plant flowers.