What are the Different Types of Engineered Wood Floors?
Engineered wood floors are a popular option for people who want to have wood floors installed in their homes. Primarily created to increase resistance to moisture through increased dimensional stability, engineered wood floors share characteristics of traditional hardwood floors and laminate floors or composite floors. Although many things about engineered wood floors will vary, the two main types of engineered wood are prefinished and unfinished wood floors. Before looking at the two different types of floors, it is important to understand how engineered wood floors are built and the different properties they have.
Engineered wood is a man-made wood product which has a core made of five to nine layers, or plies, of wood laminated together in a cross-ply construction. The plies are alternately layered in the opposite direction to increase dimensional stability, causing engineered wood to be more moisture resistant that traditional hardwood.
On the top of the core of engineered hardwood, there is a wear layer that is a solid wood veneer. The wear layer will usually determine the price and quality of the engineered wood floors that are being installed. Wear layers may be as thin as 1/12 of an inch (.21 cm) to ½ of an inch (1.27 cm). Wear layers that are at least 1/8 of an inch (.32 cm) allow for the wood to be refinished at least once if not more.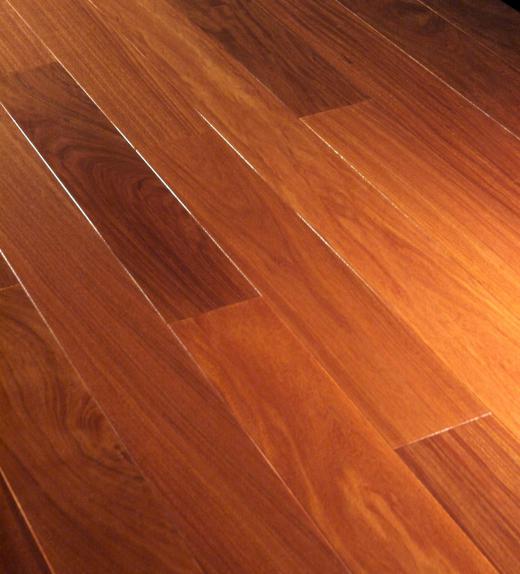 Similar to laminate flooring, engineered wood floors are constructed with a tongue and groove system that allows for easier installation. Engineered floors can be nailed or stapled down as traditional hardwood floors or glued down in the case of covering a cement floor in a basement. In some cases, engineered wood flooring is floated similar to laminate flooring.
The first type of engineered wood flooring, unfinished wood, allows the customer to have some of the same benefits as traditional hardwood. The wood floor can be stained to whatever color is chosen and finished with a polyurethane coating and should be maintained the same as a traditional wood floor. Prefinished engineered wood floors come stained and finished and may be walked on immediately after installation.
Many engineered wood manufacturers use aluminum oxide in their finish, which is the same coating used on laminate flooring. Aluminum oxide is one of the hardest surfaces known to man and helps protect engineered wood from getting nicks and scratches. Regardless of the type of engineered wood flooring used, the top layer may be made from numerous exotic and traditional wood species.
AS FEATURED ON:
AS FEATURED ON:

By: jogyx

Engineered hardwood flooring is considered more stable than true hardwood flooring.

By: Brian Creswick

Engineered wood floors can have many of the same characteristics of traditional hardwood floors.

By: Wollwerth Imagery

Some homeowners choose engineered hardwood flooring over solid hardwoods because it is more resistant to changes in temperature and moisture.