What are the Advantages of Engineered Wood Flooring?
Engineered wood flooring is one of the best alternatives to traditional hardwood flooring. Engineered wood is still real wood, as compared to laminate flooring which is a composite product. Engineered hardwood floor is made up of finished wood and plywood. This mixture allows engineered flooring to be far less expensive than traditional hardwood flooring, but still have many of its features.
Hardwood flooring is made solely of planks of solid wood. No additional material is added to it. Laminate flooring is comprised of wood chip composite, which consists of only a small amount of actual wood. Engineered wood flooring is comprised of solid finish wood on top, with plywood underneath. The top is what is visible, but the plywood makes up about 80% of the composition.
Another of the benefits of engineered wood flooring is its durability. This durability comes from the way the flooring is made, with each layer of plywood placed perpendicular to the adjacent layer. There are several layers of plywood sandwiched together like this. This helps each plank to be highly durable, and even lightly moisture resistant.
Engineered flooring is also generally very easy to install. There are various installation methods available to choose from, including nailing or gluing it down. A floating floor installation method is one that has become popular, since do-it-yourself homeowners can usually install it. This type of flooring features a tongue-and-groove locking system that requires no glue or nails.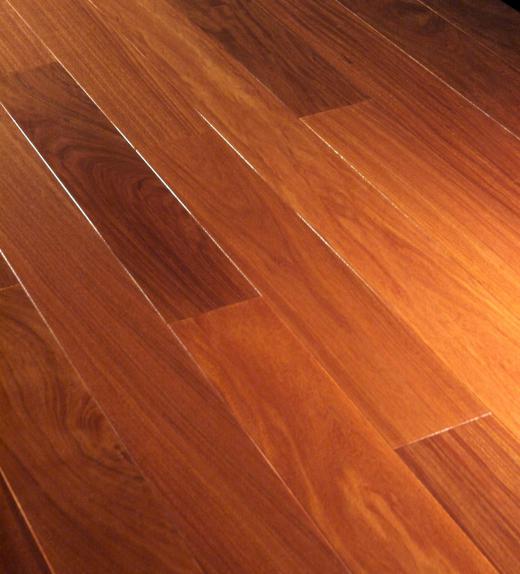 Unlike laminate flooring, engineered wood flooring can be sanded, but usually only one or two times. The top layer is made up of finish wood that is typically 1/16 inch (1.6 mm) to 1/8 inch (3 mm) or slightly thicker. This can be sanded down and stained, but sanding it more than a few times can cause the under layers of plywood to show through. Many engineered wood floors are pre-finished, so a homeowner should check with the manufacturer on whether sanding is required.
Engineered wood flooring is available in a multitude of wood types. It is often available pre-stained and ready for installation. Engineered wood usually costs less than traditional hardwood, but is often more expensive than laminate. The quality and durability of engineered hardwood helps to make the expense worthwhile.
Those who are considering the purchase of engineered wood flooring should carefully consider manufacturers. Not all products are made the same, and quality can vary. Buyers should compare wood grain, price, durability, and installation method when choosing a wood floor. Actually seeing and feeling the wood is advisable, since this can give a true indication of the quality and appeal.
AS FEATURED ON:
AS FEATURED ON:

By: jogyx

Engineered hardwood flooring is considered more stable than true hardwood flooring.

By: Brian Creswick

Engineered wood floors can have many of the same characteristics of traditional hardwood floors.

By: Wollwerth Imagery

Some homeowners choose engineered hardwood flooring over solid hardwoods because it is more resistant to changes in temperature and moisture.

By: artzenter

Engineered wood flooring includes a layer of plywood.