What Are the Different Types of Bedroom Nightstands?
Bedroom nightstands can be made from a variety of materials and in countless designs to accommodate different needs in the bedroom. Some bedroom nightstands are simple tables that will hold a lamp, alarm clock, and perhaps a glass of water, while others may feature shelves, drawers, or cabinets for added storage and convenience. Some may be made in a certain style, such as the Victorian style or a mission style, while others may be custom-made to the homeowner's preferences or simply built to the manufacturer's specifications.
Custom-made bedroom nightstands are likely to be the most expensive pieces. These will be made by a furniture maker or carpenter who can interpret the homeowner's desires for the pieces of furniture and produce bedroom nightstands that are beautiful and functional. These pieces will take longer to make and deliver to the homeowner, and the cost may be too much for some buyers, but the homeowner will get exactly the piece he or she wants for a custom bedroom. If custom pieces are cost-prohibitive, a homeowner can choose prefabricated models that are exceptionally beautiful as well; these can be made from a variety of materials, such as wood, metal, glass, or even plastic. The quality of the material as well as the quality of the craftsmanship will dictate the cost of the piece.
It is common for bedroom nightstands to be sold in pairs, one for each side of the bed. These units will usually be identical to each other, both in the style and in the type of materials used. In other cases, the nightstands may be sold as part of a larger set that includes other pieces of furniture, such as a bed frame, a wardrobe, or a dresser. The homeowner is likely to spend less overall if he or she buys a set rather than buying each individual piece separately, but the initial cost of the set may be quite high.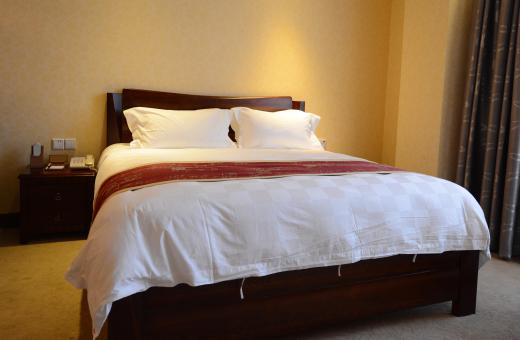 Some examples of the different styles of bedroom nightstands include Victorian, arts and crafts, mission, colonial, Dutch, and Shaker. Each style has a distinct look and feel, and the craftsmanship will vary. Doing a bit of research into each style will help the homeowner find which will fit the desired aesthetic of the room as well as the functionality he or she desires. Some of these styles are quite simple and will complement a cozy room, while others are more ornate and will complement a flashier space.
AS FEATURED ON:
AS FEATURED ON:

By: sowanna

Matching nightstands with drawers are often used in symmetrical bedroom layouts.

By: xy

Some nightstands have drawers for storage.

By: Bacho Foto

Beside tables should be large enough to hold common bedroom accessories like an alarm clock and a bedside lamp.